The top-performing firms in the architecture and engineering industry are not only achieving greater than 35% profit but they are also collecting on their invoices in under 50 days, and they have the lowest overhead rates in the industry.
How have they gotten there? The answer to that question is really not a huge secret. The fact is that many of the most successful firms are consistently benchmarking for performance, a practice that is essential to understanding how firms compare to their peers within the industry.
"Best practices benchmarking takes it to the next level by comparing your firm to the top-performing firms in that industry," says PSMJ Senior Consultant Dave Burstein. "Your passion may be your practice, but in today's economy top‐notch business practices are critical for sustainability."
PSMJ designed the Circle of Excellence to highlight successfully managed firms that demonstrate outstanding achievements in areas such as profitability, overhead management, cash flow, productivity, business development, staff growth, and turnover. The Circle of Excellence represents the top 20 percent of participants in PSMJ's annual A/E Financial Performance Benchmark Survey, based on 13 key performance metrics.

To select the 2018 Circle of Excellence members, PSMJ ranked each of this year's 361 participating firms against 13 key performance metrics. Firms received a total score across all of these metrics, and the top 20 percent (72 firms) made it into this year's Circle of Excellence. This year's 2018 Circle of Excellence includes firms of all sizes, practice areas, and geographic locations – they represent a cross section of the A/E industry today – and they are achieving outstanding success.
Rather than focus only on the most profitable firms, or those with the highest growth rate, which could be accomplished without solid business practices, our analysis determines the top 20 percent of firms with the best overall business performance. Together, the 13 benchmarks encompass critical aspects of business operations including cash flow, overhead control, business development, project performance, staff utilization, and overall profitability. We believe outstanding performance across these areas better indicates a well‐run and successfully managed firm.
You can do it too! PSMJ has released Circle of Excellence: 2018 Best Practices Benchmark Summary, a compilation of the results for those firms. These top-performing firms have raised the bar as a result of top-notch business practices, and now firm leaders can compare their firms financial performance to the best in architecture and engineering.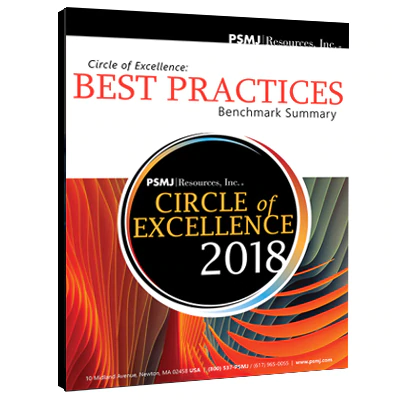 The report includes data comparisons from the 10th to 90th percentiles for each of the 13 metrics used to determine the Circle of Excellence members, who have demonstrated outstanding achievements in profitability, overhead, cash flow, productivity, business development, staff growth, and turnover.