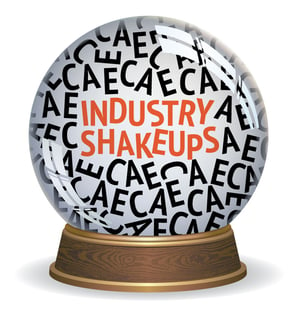 It's tempting to ride the wave of optimism right now. And why not? Business is good. Architecture, engineering, and construction (A/E/C) firms continue to grow through new hires, acquisitions, or branching into new markets.
But A/E/C is cyclical. Fast growth leads to acquisitions and mergers. Then, new firms break away — due to changes in corporate culture, dissatisfaction with current leadership or firm direction, or the desire to branch out on their own. After some time, many of these firms will grow and prosper. Then, when another shakeup happens, acquisitions, mergers, and splintering begin again.
Simply put: Working in A/E/C is like being inside a giant snow globe — at the beginning of each new cycle, we shake the globe. As things settle out, some firms reformulate, some new ones emerge, and some stay their course.
What if we were able to break that cycle and hold our place while the shaking happens? Some firms have managed to do just that by aligning their organization behind a strategic direction, encouraging thorough communication, and creating a culture of inclusion.
Aligning your entire organization behind a single strategic direction
Most A/E/C firms have either a matrix or a straight, top-down linear organization. Firms that succeed during industry shakeups align the entire organization behind a strategic direction. When a firm has departments, studios, cost centers, etc., this is no easy trick.
A/E/C firms often stick to the this-is-how-we-have-always-done-it mentality, and that is hard to change. The beauty of firms who recognize that their operations, business development, marketing, and staffing need to align with their strategy is that even the largest of them are very nimble and can react as changes occur.
These firms are more readily prepared for fluctuations in markets and economic downturns. They cannot wholly negate the effects, but they can make changes to reduce the impacts that are sometimes devastating to unprepared firms.
Aligning a firm around its strategy is why we see firms re-organize more frequently than we have in the past two decades. Imagine if your staff knew your firm's strategic alignment. How do you think that would change the way they work? Or speak to the client?
Encouraging thorough communication
As a whole, A/E/C firms do their best to communicate clearly with their clients, staff, and business partners. It is the inconsistency of communication that belies the results they seek. The various messages, frequency, and vernacular causes confusion instead of clarity.
After aligning your firm to a strategy, you should align your communication message, as well. When firms deviate from what the client understands about the firm, it sometimes calls into question their confidence in what they thought they understood.
We assume people know the meaning of the words we use, and often, they don't. Spell it out for people. Literally, spell out the acronyms that confound the A/E/C speak. Ensure the audience knows precisely what you are trying to communicate.
Set the tone for your communications with consistent timing. Obviously, you will need to make some unplanned announcements. But when you can, make sure firm-wide communications and client communications follow a set schedule. Once you fail to be consistent, your message will become watered down. You give up the importance of why you are communicating in the first place. If you do not communicate often with clients, staff, and partners, they will fill in any blanks they find on their own. Firms that weather the shaking moments in the cycle control their communications with consistent, clear, and continuous communication.
Creating a culture of inclusion
While firms often champion transparency, the key to offering an unobstructed view into a firm's organizational practices is inclusion — a concept many in A/E/C struggle with. The industry is changing, albeit slowly, to expand its inclusion of different industry practices, new effective strategies, and advanced technologies. Staff inclusion at all levels allows our five generations of employees to participate. This is critical, as our Baby Boomer leaders are retiring and there are not enough Gen Xers to fill their roles. It is the same for the client organizations. Inclusion is one more building block for firms that are already strategically aligned and communicate clearly and continuously. With the first two pieces in place, inclusion is a much smaller step than otherwise regarded.
How does your firm measure up with these three areas? How well do you think you are poised for the next shaking of the snow globe? I welcome your opinions and comments.
About the Author: Jan Flesher, PMP, is the director of client advocacy at Cosential, an A/E/C technology leader in CRM and Proposal Automation. As her 30+ year career progresses, she continues to educate A/E/C firm leaders and marketers on successful business development and marketing practices. Jan is part strategist, change agent, technology leader, and trainer. As an expert in Cosential CRM and Proposal Automation practices, she brings a refresh approach to training. Jan has addressed numerous organizations and associations throughout United States and Canada where her audiences are eager to have the jargon of A/E/C explained in a straightforward, easy-to-understand way. Reach her at jflesher@cosential.com.

Cosential is a sponsor and exhibitor at PSMJ's annual conference to held October 22-24 in San Diego. THRIVE 2018 is your chance to learn, to network, and to get an eye-opening perspective on what the world's most successful architecture and engineering firms are doing right now to thrive. This unique annual conference attracts senior-level executives from a wide range of A/E/C organizations located around the world.