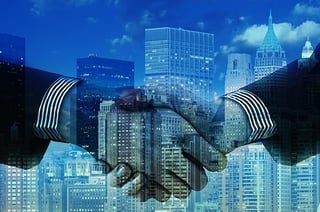 In today's COVID operating environment, acquisition sourcing, valuation, and transaction structure negotiations are a bit different. To be sure, forward-thinking growth-oriented firms are absolutely looking beyond the crisis and using acquisitions to support their strategic plan. With that, one of the questions we are hearing a lot right now is how to evaluate a firm's culture in the COVID world. The truth is that culture was one of the most challenging pieces to evaluate before COVID and it still is today. But, that is no excuse to just ignore it.

Put simply, a firm's culture is the way it does business every day. It's the practical expression of the firm's values, its core drivers, and the beliefs its people hold about the nature and value of their work. It defines how you relate to each other and to your clients.

Your culture (or that of a prospective acquisition) must be consistent with your purpose if you are to achieve your objectives. For instance: Most principals want their firms to grow, but many exercise so much control over so many areas that they inhibit their people from taking the very actions necessary to create growth.

To put it in simple terms and provide a vehicle to assess a firm's culture on an in-person or virtual basis, consider this…the underlying key to defining culture boils down to that of either control or empowerment. Most firms lean toward having either a culture of empowerment or a culture of control. Empowering firms seem to achieve the highest sustainable levels of rapid growth.

In an empowering culture, all individuals know that they directly influence the success of the company. Information, including financial information, is shared widely; people understand the big picture and their role in it. They have the freedom and the authority to act to achieve their objectives, and they expect to be held accountable. In the most empowering firms, employees have an ownership stake.

Several measurable and easily-monitored traits determine whether firms are empowering or controlling. Most firms are probably somewhere between the two extremes.

Here's a guarantee. If a controlling firm acquires an empowering firm, most of the seller's smartest people will want out within a few months. If an empowering firm acquires a controlling firm, the seller's people will spend several months in total confusion. In such a case, you'll have to accomplish a complete cultural turnaround before the arrangement can succeed.

Here are some ways to determine where your firm falls on the empowerment vs. control scale:

1. OPENNESS OF FINANCIAL INFORMATION
Empower: Staff members know financial results; each person understands how he or she contributes to profitability.
Control: Only the owner knows how the firm is doing.

2. RECOGNITION
Empower: Rewards are given frequently and publicly, achievements are celebrated, people understand what behavior is being recognized. Control: Recognition is less frequent, often secret, and may seem arbitrary.

3. OWNERSHIP
Empower: All people are encouraged to become owners. Control: Owners control large shares, prohibit others from owning until they have "earned" it.

4. IDEAS PROCESSED
Empower: Everyone creates new ideas, participates in strategic planning. Control: Ideas come from the top; only partners do planning.

5. WHAT THE PRINCIPALS DO
Empower: Principals concentrate on leadership responsibilities, with little project involvement. Control: Principals are involved in everything.

6. FUN VS. WORK
Empower: People have fun, party; the atmosphere is dynamic. Control: The atmosphere is serious; the focus is on productivity alone.

7. INTOLERANCE OF NON-PERFORMERS
Empower: People have high expectations of themselves and others; peer pressure on non-performers is immense; they leave quickly. Control: Non-performers last a long time; the boss makes all the personnel decisions and may be unaware of the situation.
---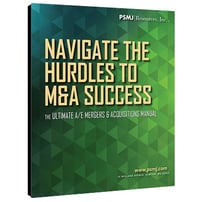 You can check out more ways to evaluate your firm's culture in PSMJ's comprehensive Navigate the Hurdles to M&A Success: The Ultimate A/E Mergers & Acquisitions Manual with hundreds of pages of insights and advice, backed up by innovative thinking that only the successful PSMJ advisers can make. PLUS, you get dozens of tables, charts, worksheets, and templates to get on track for success!


Other M&A Related Posts
Getting Ready to Sell? Think Like a Buyer!
What You Must Know About Private Equity
Growing Revenue = Growing Valuation? Be Careful What You Wish For!
Expert Interview: Assessing Current M&A Market Conditons and Trend