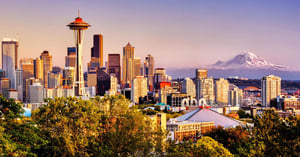 PSMJ Resources, Inc. announces the launch of A/E/C RecruitMAX, the first conference to address the unique employee sourcing and onboarding challenges faced by the A/E/C industry in this robust economic environment.
This premiere learning event aims to provide architecture and engineering firms with essential tools and best practices to compete more effectively for top design and technical talent.
"Over and over again, in conversations with principals and executives, the one question I hear more than any other is, how are we going to find the bodies we need to execute the work?" says PSMJ Senior Consultant Dion Kenney. "A combination of a demographic bubble bursting and lingering fallout from the Great Recession means fewer really great architects and engineers out there, and the fight is on to get them signed."

According to studies and surveys conducted by the American Institute of Architects, neither a firm's published design works or pedigree matter much to the newest generation of professionals. What attracts them is a firm's street cred and the ability to have a life outside of the office. And a career development plan that opens doors to more meaningful work and new challenges, including leadership opportunities within organizations committed to making a positive impact on their local community.

A/E/C RecruitMAX, presented July 23-24, 2019 in Seattle, brings together a faculty of architecture and engineering firm recruiters, thought-leaders, and subject matter experts sharing strategies that have proven successful in acquiring and retaining talent.

Among key insights to be revealed:
How BRR Architecture, an 11-office, 250 employee firm, uses its culture of continual improvement to attract passionate designers and engineers.

How Aspect Consulting built a talent pipeline to tap whenever a project requires a specific skill set not available in-house.

Why so many firms waste cash on unnecessarily high salary offers when non-monetary comp is more effective.

How small and mid-sized firms that understand and embrace new work/life balance demands beat out multi-nationals for talent, without breaking the bank.

Why connecting with the 85% of attractive candidates not actively looking for a new position yields such significant returns, and how to scale that process.
To address these and other hot issues in architecture and engineering firm recruiting, A/E/C RecruitMAX uses case study presentations and war stories from small, medium, and global firms. Attendees will leave with practical employee sourcing solutions that have been proven effective.
"The firms that land top talent are the ones who will make hay while the sun shines," says PSMJ Resources founder Frank Stasiowski, FAIA. "And those who don't won't get the most out of this surging business climate for design and engineering work. A/E/C RecruitMAX is where smart recruiters will be this summer."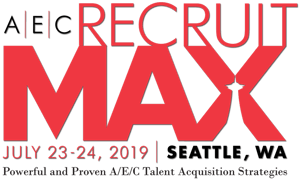 The surest way to firm success? Find and hire the best!
At A/E/C RecruitMAX 2019, you'll learn how to compete for top design and engineering talent using new strategies, technologies, and processes. It's the essential learning and networking event for firm leaders seeking maximum return on recruiting investment. Join your colleagues and leading recruiting experts for this intensive immersion in sourcing, identifying, attracting, and landing the most important new contributors your A/E/C firm will ever hire.