To fill a crucial gap in architecture and engineering financial benchmarking information, PSMJ Resources Inc. has launched its 39th survey season, including employee bonus and benefits benchmarking data and eligibility for the Circle of Excellence.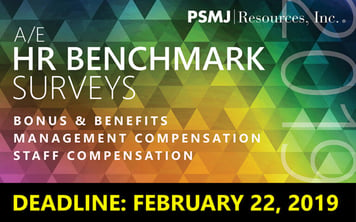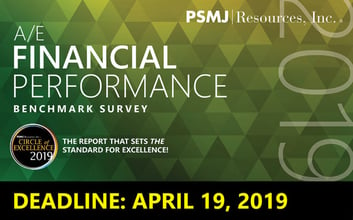 PSMJ Resources, Inc. has announced the official opening of Survey Participation 2019—when members of the architecture and engineering (A/E) community come together to play a critical role in gathering comprehensive, compelling benchmark data specific to the industry.
In addition to its three compensation and benefits surveys, PSMJ launches participation in its A/E Financial Performance Benchmark Survey to determine which firms are selected for PSMJ's Circle of Excellence, an elite group of the industry's most successful firms.
Thousands of architecture and engineering firm principals will complete PSMJ's four benchmark surveys:
A/E Bonus & Benefits Survey, 11th Edition (Due February 2019)

A/E Management Compensation Survey, 37th Edition (Due February 2019)

A/E Staff Compensation Survey, 6th Edition (Due February 2019)

A/E Financial Performance Survey, 39th Edition (Due April 2019)
Together, the four surveys collect key financial, compensation, and HR benchmark data for A/E firm leaders.
"PSMJ Benchmark Surveys address the specific needs of A/E industry firms," says PSMJ Senior Principal Dave Burstein, P.E. "Participation in these surveys is an exclusive opportunity to be a part of critical research for the A/E industry in 2019," he says.
Each survey provides participants with A/E benchmarking data for identifying gaps in processes and goal setting. "I'm a big fan of PSMJ's surveys—and the information derived from them lets us know if we are on track or not," says Robert E. Coons, Director of Finance, Randall-Paulson Architects.
"This is not simply competitive research," explains Burstein. "This is a way to align architecture and engineering firm compensation and benefits structures with the market, to make smarter decisions and achieve goals."
For more information about participating in PSMJ's surveys, and to become eligible for the Circle of Excellence, click here: