Many architecture, engineering, and construction (A/E/C) firms are barely starting to crack the code on how to work with Millennials. And now, they have a new challenge on their hands: Gen Z. Gen Z will comprise 20 percent of the workforce by 2020, so there isn't much time to get ready.

10 Facts: A Crash Course in Gen Z
Time Stamp: Born between 1995 and 2012.

Footprint: 32 percent of the population (outnumbers Millennials).

Technology: Gen Z is the first generation to come of age in a fully digital world.

DNA: FutureCast President Jeff Fromm describes them as "old souls in young bodies," stating that this digital, social, and mobile-to-the-core generation has values more strongly aligned with Baby Boomers than Millennials. Why? Gen Z came of age watching their parents go through the 2008 recession, making them more pragmatic, frugal, and cautious. And it's very difficult to earn their trust.

Personality: Compassionate, skeptical, pragmatic, inclusive, purpose-driven, and private.

Values: Transparency, experience and authenticity

Communication Preferences: Texting over talking (There are lots of hints in this point alone!).

Seeking: Experience, creative marketing execution, and "edutainment"

Expectations: Constant feedback, meaningful work, and seamless experience

Top Challenge for Firms: Attention span = zero
Winning Gen Z: How to Command Their Attention
Nail the Experience
Millennials worked with companies helping them become more tech-savvy; Gen Z simply expects your firm to have this figured out by now.
To attract top Gen Z talent, your firm must make its hiring process seamless, effortless and online. This new generation of candidates is impatient with disjointed, slow or clunky experiences and will quickly move on to the next firm that does better.
For smaller firms that traditionally couldn't afford to outsource their recruitment function, software such as Google Hire and AI-driven tools such as the chat bots offered by Wade & Wendy speed up the process, improve the experience, speak Gen Z's language and give your firm the competitive edge.
Package for the Gen Z Mind
Gen Zers are born learners, and they do their homework! They are also highly adept at immediately deciding whether or not information is relevant to them. The rest is noise.
With a short-to-none attention span, your marketing message must grab their attention and articulate your value proposition in seconds.
Use data, analytics and social listening tools to better understand your candidates' and employees' behaviors and preferences at different stages in their journey.
Opt for visual channels and creative communications delivery by prioritizing video, and using AR/VR for recruitment campaigns and employee engagement and education.
And whatever you do, communicate in sound bites!
Gen-Z-ing Your Workplace Environment: Will They Stay or Will They Go?
Retaining Gen Z employees also will not be easy – and not because they don't want to stay. Data shows that 61% percent of Gen Zers say they would remain with one company for 10 years and 31% of those would stay more than 20 years. However, you have to create the right workplace environment to earn this kind of loyalty.
How do you build a culture that gives Gen Zers plenty of reasons to stay?
Create Balance. Studies suggest that Gen Zers are stress-adverse. Promising a "fast-paced work environment" will immediately repel them. Striking a balance between work and play during work hours, allowing downtime for creative thinking and offering time off for volunteering are just a few ideas that will put your firm ahead of its competition.

Offer Opportunity. Gen Z employees want to be a part of the conversation and have the opportunity to share ideas, and they'll thrive in an environment that helps them learn different aspects of the job. A/E/C firms that offer job shadowing, micro-learning and job rotation programs will have a better chance of winning Gen Z's loyalty.

Lead with Purpose. Gen Z is a purpose-driven generation and wants to work for companies, people and brands that offer opportunities to make a difference. Unlike Millennials who value work-life balance, Gen Zers value seeing meaningful impact of their work.

Put Diversity Front and Center. According to the Pew Research Center's report, Gen Z is the most diverse generation yet, and A/E/C firms must demonstrate their commitment to creating a diverse workplace. Take a look at your website's leadership page. What do you see? The most critical diversity program you can implement is to make sure that your leadership team mirrors the workforce your firm wants to have.

Be Social on Their Turf. Gen Z favors visual channels, such as Snapchat, Instagram and YouTube. Although it may be challenging for A/E/C firms to leverage channels previously perceived as highly youth- or consumer-focused, you will have to meet these new candidates and employees where they are.
About the Author: Ida Cheinman is Principal and Creative Director of Substance151 – a brand communications firm focused on professional services and A/E/C industries. She uses her 20+ years of experience as a brand strategist, designer, marketer, and educator to help business leaders and marketing professionals make sense of trends, tools, and best practices in order to position their firms to win in the 21st century's fast-changing and extremely competitive marketplace. Connect with her on LinkedIn or Twitter.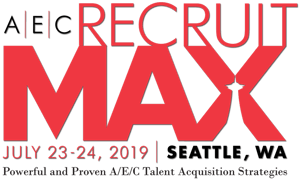 The surest way to firm success? Find and hire the best!
At A/E/C RecruitMAX 2019, you'll learn how to compete for top design and engineering talent using new strategies, technologies, and processes. It's the essential learning and networking event for firm leaders seeking maximum return on recruiting investment. Join your colleagues and leading recruiting experts for this intensive immersion in sourcing, identifying, attracting, and landing the most important new contributors your A/E/C firm will ever hire.