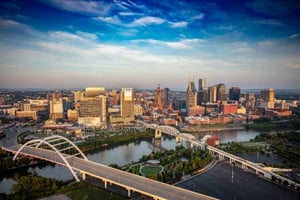 Constantly searching?
Finding a qualified visual representative should be about more than finding a "good" photographer. An architectural photographer should work with you to help achieve the highest levels of promotional potential through consistency of project imagery and be able to find solutions to any challenging exterior presented.
As one client told me who won a design award with our project photography, it is worth paying a little more to work with someone who is willing to travel regionally than go through the headache of trying to find an unknown option in many different markets.

Questions to ask
Is my photographer an architectural photographer or someone trying to be a jack of all trades? Finding a photographer whom you can work well with and communicate about the specific types of desired imagery will always result in a far superior end result. That conversation won't go as well with someone who doesn't specialize in architectural photography. Can they be called upon to capture aerial or drone imagery when needed?
Navigating no fly zones should not be a problem for an experienced architectural photographer. Can they color profile your images for web and monitor display usage? Your photographer should work to help your marketing team look their best and make their jobs easier. Do they have the proper Certificates of Insurance? And finally, can they travel quickly to a job site and complete work on a deadline while also dealing with constantly changing weather patterns?
Does my visual representative measure up?
As a firm owner you should ask yourself if your current photographer can handle all of these service options. Am I satisfied with a searching for a "good" photographer in all of my project markets or would it be more beneficial to search for a regional option who can be counted on to help define my firms visual reputation. What is expected in a visual world and why?
We are now living inside of a very visual age especially now that the smart phone is with us wherever we go. Seeing is believing! Your future clients will expect to see projects of the highest quality, value, and recognition. Those firms who continually invest in quality photograph year-to-year are the ones who have survived well during the ups and downs of the economy.
Also, firms who invest in capturing their work provide concrete examples of how their firms are more experienced while also help to differentiate themselves from their competition. Capturing your best work will pay dividends for many years to come and can be used in so very many different ways in this social media society. We all see the world first and then if we have time then perhaps we might read about it.
The Offer?
Chad Chenier Photography will be a corporate sponsor the PSMJ THRIVE event in New Orleans. We will be making a special offer only available during the conference to those firms who want to find a solution for their visual representation. We are focused on helping architects and contracting firms promote their most deserving projects. Look for our sponsor table and ask for our special offer so that we can become part of your team. Let us help your firm visually excel!
About the Authors: Having photographed residential and commercial architecture and interior design for the past 13 years, Louisiana native Chad Chenier has excelled in a dynamic and evolving profession. The acclaimed Louisiana photographer creates images that convey his passion for portraying America's most notable architects and designers with artistic verve.

Chad Chenier Photography is a sponsor and exhibitor at A/E/C THRIVE 2019: The Growth, Profit, and Success Summit for A/E/C Firm Leaders taking
place October 2-4, 2019, in New Orleans, LA.
This unique conference is an opportunity to hear directly from the leaders of top-performing firms and other industry visionaries on specific growth, profit, and performance improvement practices and how to replicate them.