Inflation may be starting to show some signs of cooling, but the Fed isn't backing down anytime soon and the impact is becoming more noticeable in the architecture, engineering, and construction (A/E/C) space. The overall A/E/C outlook continues a downward trend and this is driven largely by the freefall happening in key private-sector markets.
PSMJ's latest Quarterly Market Forecast survey of 115 A/E/C executives (collected between December 28, 2022 and January 10, 2023) revealed an overall proposal activity Net Plus/Minus Index (NPMI) value of just 8.0. Any NPMI value above zero indicates that more respondents are seeing an increase in proposal activity compared to the prior quarter (+100 indicates all respondents are seeing an increase in proposal activity, -100 indicates all respondents are seeing a decrease in proposal activity). Since proposal activity is a leading indicator for backlog, revenue, and — ultimately — cash flow, the latest NPMI values provide a valuable glimpse into cash flow over the next 12 to 24 months.

While still barely clinging on to positive territory, this latest index value marks a continued decline from the record-setting 2022 Q1 value of 60.2 and a significant slide from the previous quarter value of 25.0.

According to PSMJ President Gregory Hart, A/E/C firms' marketing horsepower will be tested in the months ahead. "Huge streams of funding to support infrastructure projects are keeping the public-sector markets in pretty good shape," states Hart. "But, if you have significant exposure to the private land development markets in your revenue mix, now is the time to act to avoid significant trouble ahead."

Any index value greater than 20 generally indicates a healthy market. Three of the 12 client markets are now below that threshold and the two commercial markets have entered negative territory. The following chart compares the NPMI values in each client to the same period last year: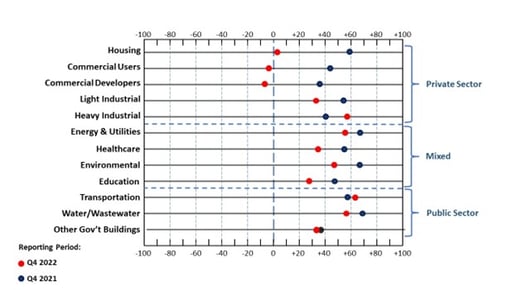 In terms of projected revenue by quarter, while still in positive territory, our survey indicates a continued bearish trend:




PSMJ's A/E/C Quarterly Market Forecast is the only forward-looking study of proposal activity and gives executives essential intelligence for making better strategic decisions on market pursuit, allocating assets, and projecting revenue. As well as providing an overview of the entire A/E/C market, only PSMJ's Quarterly Market Forecast Report details conditions in 12 major markets, and 58 submarkets.

Receiving this timely quarterly report is one of the benefits of membership in PSMJ PRO, the executive suite of A/E/C business management tools carefully curated to help leaders push their architecture and engineering firms to new levels of growth and profit. To learn more about starting your PSMJ PRO membership, including access to the latest deep-dive market-by-market report, visit www.PSMJ.com/StartMembership.