6 SIGNS THAT IT'S NOT DOING THE JOB
A website is a vital part of your company's marketing mix. You aren't likely to find a successful organization that doesn't have at least some type of Web presence.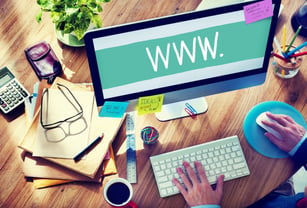 But what many business owners fail to realize is that websites are living things, at least in the sense that you can't just slap together a site, make it live, and walk away. The result is websites that are outdated or incomplete at best, and downright useless or unintentionally comical at worst. Compounding the problem is that many business owners don't realize either that their websites reflect poorly on their business, or they simply don't know where to start making changes to fix the problems.
Using a resource like Top 10 Best Website Builders can help you redo your site to better reflect your business, but the first step to addressing either problem is to learn the signs that your website isn't doing its job. Once you know what to look for, and what is most likely driving visitors away, you can begin making changes to improve your site so it truly reflects your business and what you do best.
Sign #1: You're Embarrassed to Send People to Your Site
It seems like a no-brainer, but you'd be surprised how many times customer's ask about a website only to be told "Well, it's out-of-date" or "It's not that great, but . . ." The fact is, if you aren't proud of your site, and you feel like you need to provide a disclaimer before giving your Web address, it's time to make a change.
Just think: How many people found your website on their own and chose not to contact you, because you didn't have the chance to apologize for your lackluster website?
Sign #2: It's Not Immediately Evident What Your Company Does
Research shows that more than half of all Web users spend less than 15 seconds on a website — just long enough to determine whether it has the information they are looking for. So ask yourself this: When a potential customer lands on my site, can they immediately tell what we do and who we are?
If the answer is no, you have some revamping to do. Choose images, headlines, and links that are easy to navigate, and that make it very clear to even the casual visitor what your business does.
Sign #3: You are Still Relying on Outdated SEO Strategies
Once upon a time, getting your website to show up toward the top of search results meant using the most popular keywords as much as possible in your site's content. The practice of "keyword stuffing" has gone the way of AOL Instant Messaging. However, but many sites still rely heavily on that and other SEO strategies that no longer work, or that even lead to Google penalties.
If you are seeing an above-average bounce rate, or if your placement in the search results is low (and falling) then you need to do some work on your site to bring it up to speed.
Sign #4: You Can't Remember the Last Time You Refreshed Your Site
Trends in Web design come and go, and it's easy to spot sites that haven't received much attention. If you can't remember the last time that your site was updated — or it was more than a few years ago — it's time for an overhaul. Your business has undoubtedly changed in that time, so your site should as well. Even if you just update the photos of your completed projects or revamp staff bios, you'll more accurately reflect your business online.

Sign #5: You Have More Broken Links than Working Ones
You know how you are thinking about updating your site? There's a good chance that the sites you're linking to have already done it — and the links you have on your site are now outdated or broken. Even internal links can break or become irrelevant, so it's important to spend some time auditing your links to fix those that aren't working or as fresh as they could be.
Sign #6: Your Site Goes Down — A Lot
If your website is perpetually down, customers can't check it out. Plus, a site that doesn't work doesn't reflect well on your business's quality. The first step is to determine why your site is going down, and then fix it.
Staying on top of your website's performance, appearance, and search visibility is vital to successful digital marketing. If your website is showing signs of wear and tear, or just not reflective of your current business, make the necessary changes and watch your business grow.