To collect our annual feedback from PSMJ members, we invited 584 people via email to complete a quick nine-question questionnaire. Just slightly more than 11 percent of members (67) responded. For the most part, we asked them to rank items in order of importance to them and their firms.
We found that when it came to what PSMJ membership provides, data-driven advice remains what members want most. More than half (34) of the members who responded to this question reported that "Analysis of Industry Data" was their top choice. In overall scoring, "Presentation of A/E trends" came in a close second.
Here are the top five features using ranking by average: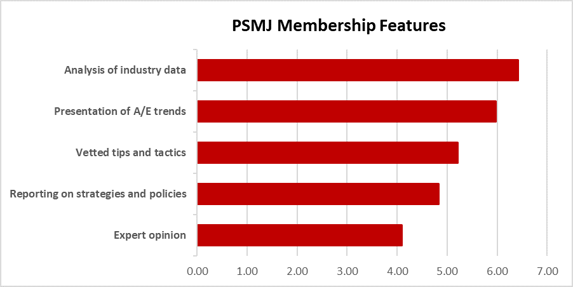 We also asked about hot topics and found two topics on the minds of many respondents. "Firm Culture and Values" and "Finding and Keeping Top Talent" were neck-and-neck in ranking and scoring. Most firms gave "Firm Culture and Values" the number one spot when it came to topics of interest, but "Finding and Keeping Top Talent" scored the most overall.
When you look at the top five topics of interest, HR issues are very prominent: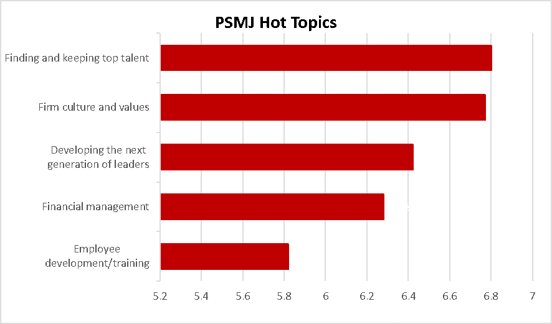 By far, the way members want to get their information is on a web-based portal that allows them to access the information they need anytime they want.
Here are their top five delivery preferences: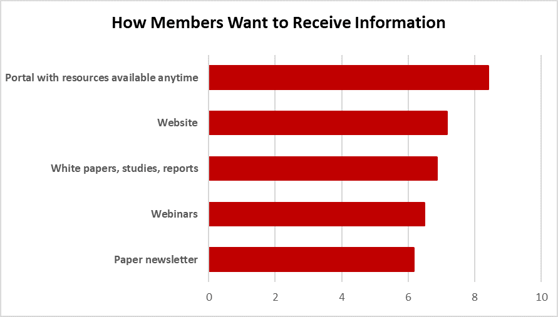 WHAT MEMBERS LIKE
Members repeatedly praised PSMJ's coverage of industry-specific information and data presented in a concise format. They called it "valuable," "useful," and a "direct pipeline" to industry information. Indeed, more than 40 percent of responses had some reference to industry information. Many specifically said they thought the newsletter was the best thing about membership.
WHAT MEMBERS WOULD CHANGE
There is not much PSMJ members would change about their membership if they could. More than 50 percent of respondents said – in some form – that there was nothing they would change. On top of that, 15 people skipped this question, suggesting an even greater percentage of people have nothing they want changed. Responses that include a desired change were quite varied and ranged from website improvement to more specific things such as seminar location.
PSMJ applauds your efforts to push your firm to the next level, put new ideas into action, and institute positive change. Now—join the community of architecture and engineering professionals just like you. Our success lies in engaging persuasive, intelligent, and devoted architecture and engineering leaders who devote their time and effort to make their firms great. Every day they strive for greater profits, better culture, and superior clients. And they have PSMJ by their side. When you join PSMJ, you get a variety exclusive benefits to help you to be more successful.