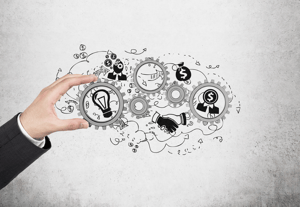 Branding is hard. While this may not be what you expected to hear from a marketing firm whose purpose statement includes "building brand value," it is the truth. When rebranding is done well and done right, it is an ambitious process that takes leadership, strategy and commitment from a marketing and design team. Let me explain.
A logo is the proverbial 'cherry on top'
As a creative agency, Small Giants perpetually tells clients that branding goes beyond a logo, yet our own rebranding conversation began with the question "should we refresh our logo?" Do not limit yourself with this thinking! While a logo helps present and define a firm's brand among clients, peers and industry, there are several other major factors that influence a brand.
What is the "why" and purpose? Does the company have a niche? How does the firm consistently live out culture? Has the company identified that makes it exceptional? How is that communicated? Is messaging clear? The answers to these questions help determine the marketing image, look and feel. Some firms spend a lot of money on very attractive logos that have little substance behind them. When a holistic approach is taken, a new brand logo is one of the most invigorating activities a firm can undertake.
Get out of your own way
Because I had not taken the time to follow the steps outlined, I was disappointed when I received the new visual brand concepts from our design team. Seeing new designs made me reminiscent of selecting our existing logo during Small Giants' first month of business – before I had employees. I knew the logo needed to be updated, but I was not prepared for significant change. I thought that more logo concepts would help. They didn't. I thought bringing in more people to lend perspective would change my mind. I was wrong. I considered stopping the branding process altogether.
My "ah ha" moment was when I recognized that I sounded exactly like a client that Small Giants worked with a few years ago. They did not want to follow a branding process and the entire project suffered for it. They decided not to move forward with new designs. With this realization, I set my ideas for an intended outcome aside and let the process craft our brand.
You may feel protective of your brand, even if you're attempting to be open to a new one. The very best way to overcome this hesitation is to trust the process. Your firm will rediscover a sustainable, timeless brand and your team will be much more loyal to it, too!
Trusting the process
As our team followed the steps that we know and recommend to clients, transformation occurred. We gathered client feedback that was consistent and defining, and it made us rethink our mission statement, which elevated the process to uncovering our "why." Defining our purpose authored our messaging, which led us to discover that we had not crafted a brand story. We worked with a consultant for months to become absolutely clear on the story within our brand. Determining our archetype energized our team and guided us to ensure that our story would live and play out in daily operations.
This process ripped open all aspects of the business - Strategic goals were rethought, our organizational structure was redefined to better execute our brand and our core values were re-evaluated. Additionally, all of our marketing materials, from our website to our job postings, were rethought, reprioritized and re-engineered. Even the search for new headquarters meant seeking a space that would accommodate our growth and communicate our brand persona.
I regularly preach the importance of brand as the backbone of any strategic marketing approach, but until our brand manifested itself throughout every aspect of our firm, I never really knew the power of the process. I know now that a truly great, authentic and living brand affirms itself.
Enjoy the journey
Firms do not undergo the rebranding process often enough. Even if you're not ready to adjust your "look," all other areas of branding are worth exploring, revisiting and refining from time to time. Your firm is not the same as it was ten years ago. Take on parts that will make your brand stronger and better-align with your firm's true purpose and value.
Branding is measurable
Brand measurement can be achieved through three key metrics: interaction, engagement and participation. In the past, branding was largely an intangible activity, but with rich data available through almost every marketing platform, brands can be monitored, measured and adjusted to achieve set goals. Look for an increase in brand awareness, social listening and engagement, market share of voice, website data, e-blasts and other communications. If measurable goals are established in the beginning, the brand's effectiveness will be measurable at six months and one year after the brand launch. Share the outcomes with your team!
Was our own rebrand a success? On every level. Internally, we have been transformed. Operationally, we are stronger. Strategically, we are grounded. Taking the time to understand what defines our firm, our unique selling proposition, and the power of knowing our brand story was invaluable in planning for the future.
About the Author: Danielle Feroleto, CPSM, founded Small Giants in 2006. The firm's foundation of exclusively serving the CRE and A/E/C industries was borne out of Danielle's background in commercial construction in several capacities, including editor for two construction publications, and marketing and business development for a large general contractor for nearly a decade. The result has been passion, application and understanding the industry to serve more than 300 clients in achieving their goals and visions to compete at the highest level. In 2015, Danielle was named one of the "Most Influential Women in Commercial Real Estate." Danielle earned a Masters in Mass Communication from ASU, and she currently resides in Phoenix with her husband and daughter.
For information on Small Giants services and how they can assist you:

You can also meet Small Giants at THRIVE 2018. They are a sponsor and exhibitor at PSMJ's annual conference to held October 22-24 in San Diego. THRIVE 2018 is your chance to learn, to network, and to get an eye-opening perspective on what the world's most successful A/E/C firms are doing right now to thrive. This unique annual conference attracts senior-level executives from a wide range of A/E/C organizations located around the world.