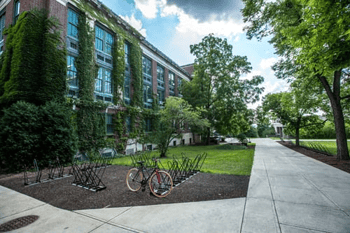 Since the end of the Great Recession, Higher Education has been among the most consistent of the 58 submarkets tracked in PSMJ's Quarterly Market Forecast (QMF) survey of proposal activity. This forward-looking indicator of sector strength has been in positive territory for nearly nine years.
PSMJ uses the NPMI that measures the difference between the percentage of firms reporting an increase in proposal activity and those reporting a decrease. PSMJ has been conducting the QMF continually since 2003.

In the latest survey of 2019 Third Quarter results, Higher Education's NPMI slipped from 34 percent to a still respectable 28 percent, remaining well within the range where it has resided since the start of 2013. What does this steady, if unspectacular long-term performance portend for A/E/C firms working in the higher education space? Based on market data, expert opinion and practitioner feedback, more of the same. But it is not a market without challenges.
Slowing Enrollment
The U.S. Department of Education's (DOE) publication "Projections of Education Statistics to 2027" estimates that total enrollment in degree-granting postsecondary institutions will increase three percent, to 20.5 million, from 2016 to 2027. The same publication says that the increase was 19 percent from 2002 to 2016 (16.6 million to 19.8 million).
This slowing enrollment hasn't slowed construction, however. Spaces4Learning.com, the online publication that merged College Planning & Management and School Planning & Management, reports that 79 percent of the 215 colleges and universities it surveyed planned to start construction projects in 2019, with more than half (55 percent) saying that their focus was on major renovations and modernizations. The QMF suggests that this trend will continue into at least 2020.
Higher education experts theorize that colleges and universities are trapped in a competitive environment for students whose expectations of the physical environment are much higher than they once were. Schools that don't keep up with these demands risk losing students and potentially triggering downward spirals in enrollment, money and prestige. Higher education facilities management company Sightlines says the outlook for higher education construction is on "a shaky foundation."
Diminishing public funding, aging buildings, and vastly slower enrollment growth contradict the need for the ongoing expansion of facility footprints. "During the post-recession years of 2009-2012, institutions across the country responded to surging enrollments by adding new facilities to expand their programs and amenities," the company said in its latest report on the state of facilities in higher education.
"The educational landscape has become increasingly competitive in the years since, and institutions have doubled-down on constructing new facilities. There's an arms race on, and institutions are building new to recruit and retain a greater share of the declining pool of potential students." The report adds, "It is possible this strategy could pay off for certain institutions, most notably research and highly prestigious institutions, but it will likely leave many institutions with swollen campus footprints and declining tuition revenues."
Many colleges and universities fund capital expenditures by simply raising already astronomical tuitions and fees,
an unsustainable strategy. Others seek alternative funding sources such as public-private partnerships, or work to
increase endowments. Responsible spending is another option, says Sightlines. "It is crucial for institutions to square their campus growth ambitions with their financial realities to make certain they can afford the long-term costs associated with maintaining their existing institutional assets and today's ongoing expansion. Their
survival may depend on it."
Despite these challenges, the need for design and construction services in higher education is certain to grow. "Higher education has seen two major waves of building construction over the last 125 years, one from 1950-1975 and one from 2000 to present day," the report states. "This 'demographic' profile tells us that within the next 10 years, these two cohorts of buildings will both be demanding high levels of capital investment at the same time. This means the largest demand for capital investment that higher education has ever seen is bearing down on us, whether or not the resources to meet that demand exist."
For more detailed information, download a copy of PSMJ's Quarterly Market Forecast.
The full report is available in three ways:
Participate and get it free (a $347 value).Participation is now open!

Become a PSMJ member and get it (and lots of other stuff) with your membership.
This article is featured in the January edition of the Professional Services Management Journal (PSMJ) newsletter. PSMJ's carefully-curated content ensures that you are not getting generic filler, hypothetical fluff, or anything but proven battle-tested advice. Check out a free copy available at the link below.
PSMJ is more than a monthly newsletter: Become a PSMJ Member and join a community of successful and devoted architecture and engineering leaders who, just like you, are passionate about making their firms great. When you join PSMJ, you get exclusive benefits to help you be more successful.