Actively upgrading CRM systems can help win more opportunities
This message is brought to you by our partners at aec360. A key solution from HSO, Microsoft's largest independent Dynamics 365 provider, aec360 is the premier cloud solution for architecture, engineering, and construction firms. Learn more.
In November, the Infrastructure Investment and Jobs Act became public law. The $1.2 trillion-dollar package includes funds for roadway and bridge projects as well as improvements to water, energy and broadband systems across the country.
AEC firms are optimistic the new infrastructure bill will be a major contributor to their projected top line revenue growth over the next five years. Opportunistic firms recognize the influx of funds and expanded availability of projects as an opportunity to catapult their organization to a new level in the AEC industry.
To win their share of these new projects and to maximize growth, firms are looking at their current CRM system challenges and addressing them now. Proactively addressing CRM issues will help many firms set the stage for success and allow them to take full advantage of this unprecedented investment in infrastructure.
In this post, we summarize some of the high-level CRM challenges that AEC firms have, the impact on these issues have on a firm's ability to take full advantage of the new infrastructure bill, and how aec360 by HSO can help address those challenges.
Inadequate CRM systems limit firms' ability to benefit.
Most firms understand that the success they achieve from new infrastructure funding, starts with their approach to the market and their ability to manage those efforts. The bill represents a huge revenue injection for the AEC industry for a relatively short period of time.

To capture more of these projects, there is a more pronounced need for speed and accuracy in your CRM system. Now more than ever, your CRM system needs to give you information for smarter decisions and immediate action steps.
For many AEC firms, their CRM software falls short in 3 essential areas:

1. Relationship Management: Connect with the right person at the right time
It's clear that relationships drive sales. In the case of the infrastructure bill, lack of connection to the decision makers severely limits success in the market. Better relationship management will significantly impact the firm's ability to win more work in several areas.
The idea of approaching the market with speed and accuracy starts with making sure you're well connected to key project stakeholders. Your ability to establish relationships early in the sales process will give your firm the best shot of winning the opportunity.

Many firms already have some connection to key stakeholders but fail to recognize their existing relationships due to siloed information or lack of insight into the activities of other departments.
In the screen shot below, you can see how Microsoft Dynamics 365 and aec360's CRM system will help.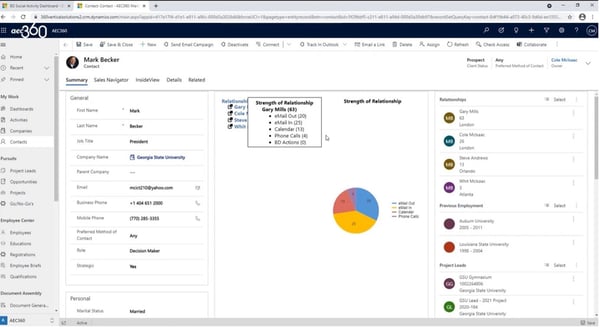 If you don't know the prospect directly, the Enterprise Relationship Management (ERM) application in aec360 will show you who does. This includes current relationships the prospect has with your co-workers, as well as your external business contacts. As shown above, ERM scores your co-worker's contact activity with the prospect and the strength of their relationship. ERM also gives you direct access to LinkedIn Sales Navigator, so you'll be able to identify the best connections outside your organization.
Your firm will capture more of these new projects with better relationships with prospects. Enterprise Relation Management in aec360 will help you tap into existing relationships so you can develop new ones.
2. Efficiency: Use machine learning to automate processes
Your staff is most efficient when your CRM system automates processes and requires less user administration. Less friction between users and the software also increases adoption. Higher adoption and less administration allow the firm to focus on capturing more of these new infrastructure projects.

Unfortunately, many firms fail to recognize the importance of efficiency when it comes to their CRM systems. Far too often, updating and accessing client data is an overly complicated and time-consuming process. This leads to a reduction in accuracy and the level of insight the firm can gain from their data.

Microsoft and aec360's CRM software anticipates when a user would likely want to perform a task and asks the user if the system should do it for them. Your staff has fewer administrative tasks because the system helps maintain itself. An example of this is shown below.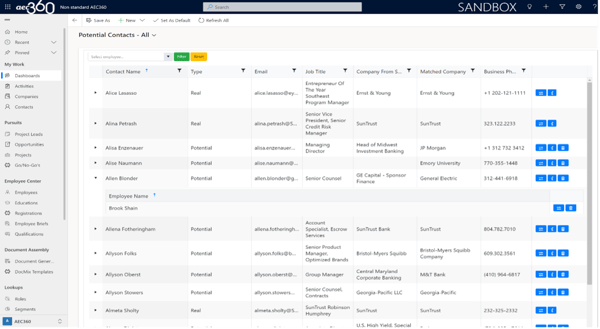 The screen shot shows a summary of how aec360 CRM asks the user if they would like the software to create or modify contacts. The software looks for increased activity with any contact and if they are not in the database, the software asks the user if it should capture the data and create a new contact record. If the contact moves to a different firm or has a new address, the system learns of that and asks the user if the contact record should be edited.

Having the software handle this is the most efficient way for a user to fulfill a process or collect data. Focused speed and accuracy, Microsoft and aec360's CRM system is updated with essential information immediately and without user entry errors.

3. Smarter Decisions: Support agility with better information
Quick reaction to shifts in the market, and knowing your firm's success and failures with each move, helps you get the biggest benefit from this legislation. It's critical that your firm makes timely decisions regarding expansions into regions, market sectors or service lines. There's a lot riding on making smart decisions as quickly as possible.

As a result, there is an even greater emphasis on the speed and accuracy of information from your CRM software. Information that prompts clear action steps is what it's going to take to win more of these infrastructure projects in the next five years.

Many firms struggle to gain actionable insight from their CRM data due to inaccuracies, outdated intelligence, or a lack of effective reporting tools. This often leads to slow and ineffective decision-making processes.

To support making smarter decisions, Microsoft and aec360's CRM system delivers dashboards like the example below.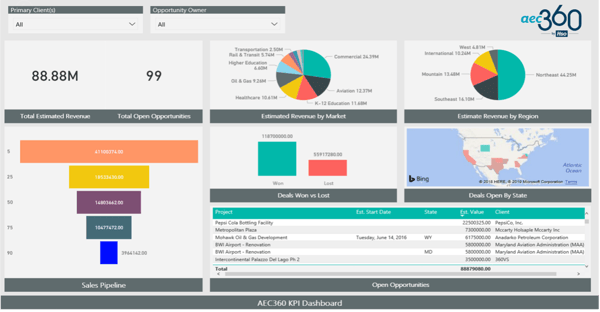 The dashboard delivers real-time information required to support real-time decisions. It's crucial the user immediately knows when things change. The dashboard is designed to be a single source for all the information required by the decision maker.

A big influence on the speed and accuracy of aec360's dashboards is its native integration with Microsoft and Power BI. Other AEC CRM providers have found that Microsoft's Power BI is the best information delivery application available, but none of them have a Microsoft based system. As a result, information is not as readily available, accuracy is questionable, and reporting is not as flexible. aec360 has none of those problems.

Now is the time to evaluate your CRM system

The new infrastructure bill has the potential to fundamentally change your firm's profile in the AEC industry. However, to truly benefit from this opportunity, you need to evaluate the effectiveness of your CRM system and proactively address any potential issues.

Does your CRM support the Relationship Management you need? Does it make your team more efficient and allow you to focus on important tasks? Does your CRM system give you the right information in time for you to be nimble and make smart decisions regarding the direction of your practice in a shifting market? If you can't answer yes to all of these questions, it's time to act.

Microsoft and aec360's CRM have been designed to address those deficiencies. Let us show you how. Contact us today for a demo of aec360 by HSO.
About the Author:
Neil Holmes, AEC Market Lead
Neil has been helping Architecture, Engineering, and Construction firms evaluate and select ERP solutions for the last 35 years. He is currently the AEC Market Lead at HSO ProServ.