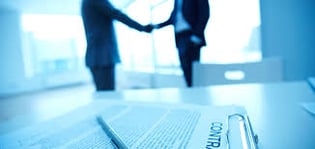 PSMJ has just released its 2018 A/E Financial Management Software Study report, which presents the results of a study recently conducted on what accounting software leading architecture and engineering firms use for financial management. The report focuses on the features and benefits, as well as the shortcomings of each of the leading solutions in meeting the specific needs of the A/E industry.
To our knowledge, with 387 participants and rich analysis on how a variety of factors—such as ease of use, access to information, and integration with other software—impact user satisfaction, this is the most comprehensive research of its kind to be conducted in the A/E industry—certainly that has been conducted recently.
We present the results of the study by firm size, starting with what we learned about financial management software use in today's architecture and engineering firms: How well each tool provides principals and financial managers, and project managers with the information they need, and how easy it is to access this information. In this study, we also ask a range of questions relating to firms' views on how well their software integrates with other applications, as well as supports business-intelligence, human resource (HR), and marketing functions.
We then ask a range of questions relating to firms' views on the ease of conversion from prior software, how well their software integrates with other applications, and the quality of training and support. Here, we rate individual responses from a low of 1 to a high of 3, 4, or 5, depending on the question, and calculate the average rating to provide the final score.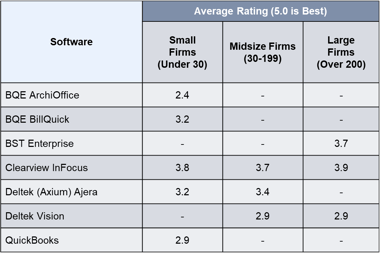 How Training and Support Stacks Up
For instance, when we ask firms to rate the quality of training and support provided by from their accounting software vendor on a scale of 1 (terrible) to 5 (excellent), we find that almost all firms report that it is good to very good. The average ratings for all financial management applications by all firm sizes range from 2.4 to 3.9, with BQE ArchiOffice scoring the lowest rating (2.4) among small firms, while ClearView InFocus scores the highest rating (3.9) among large firms. Meanwhile, ClearView InFocus averages the highest rating among midsize firms (3.7) (see chart right).
Software Likes and Dislikes
And finally, we ask participants to share what they like best and what they dislike most about their accounting software. This section features open responses, organized by firm size and then financial management software, and includes comments on ease of use, reporting capabilities, and a slew of other examples of honest opinion and review. We wrap up this section with a question that rates from 1 to 4 how likely firms are to recommend their software to others.
The report concludes with a summary chart of all responses organized by firm size and financial management application. We summarize how firms rate their financial management software across all of the factors covered in this survey—translating numerical ratings or percentages into ratings of: Good, Fair, or Poor.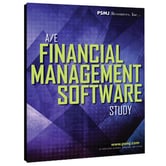 Though we only cover a small corner of the vast world of financial management software in this study, we do hope you find it helpful. PSMJ's A/E Financial Management Software Survey is available for purchase or as a free download to PSMJ newsletter subscribers.
.