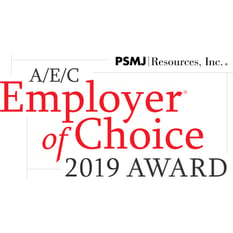 PSMJ Resources has announced that four architecture and engineering firms as winners of the 2019 A/E/C Employer of Choice® Award, the industry's premier recognition of firms that have mastered workforce retention and productivity by achieving a superior level of employee engagement.
"To keep pace with the workload in this robust economy," says PSMJ Resources Director Gregory Hart, "A/E/C firms need to keep every staff member fully engaged. PSMJ research and data analysis has pinpointed those factors that actively improve how employees connect with colleagues, leaders, projects, and clients. The A/E/C Employer of Choice® Award recognizes the best of the best."
The 2019 award winners are (in alphabetical order):
The A/E/C Employer of Choice® selection committee studied the results of PSMJ's 70-factor survey of nominated firms' employees, diving deep into what they do to inspire, encourage, and engage with their architects, engineers, non-technical staff and managers. While individual responses are kept anonymous, firm executives receive a summary report to benchmark engagement gaps and employee morale against similar A/E/C organizations.
"Architecture and engineering firms are fighting for a shrinking pool of true rock-star talent," says PSMJ Founder and CEO Frank Stasiowski, FAIA. "With this data collection and award selection process, we have hard answers about why employees leave, why some underperform, and why it's so hard for some firms to fill open positions."

PSMJ will honor A/E/C Employer of Choice® Award -winning firms at A/E/C THRIVE 2019: The Growth, Profit, and Success Summit for A/E/C Firm Leaders on October 2-4, 2019, in New Orleans, LA. This unique conference is an opportunity to hear directly from the leaders of top-performing firms and other industry visionaries on specific growth, profit, and performance improvement practices and how to replicate them.