No "perfect" bonus plan appears to exist in the architecture and engineering industry, as many variations are in place, and many firms express concern that their plans do not result in the level of motivation necessary to influence staff behavior.
Among its key findings, PSMJ's 2015 A/E Bonus & Benefits Benchmark Survey Report determined that only about one-third of the architecture and engineering firms surveyed (39%) believe that their overall bonus programs motivate their staff. Because the objective of any bonus program is to change behaviors, and align them to the achievement of well-defined goals, this is not a positive sign for the industry.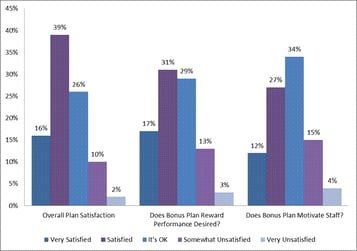 Examining the results from an opposite perspective, many of the largest percentages of lowest satisfaction levels are reported for the plan's ability to motivate its staff (15 unsatisfied and 4% very unsatisfied) and rewarding desired performance (13% unsatisfied and 3% very unsatisfied). Not only are close to a quarter of the firms (19%) unsatisfied with their bonus plan as a motivator for the staff, but also 34% indicate that 'it's OK'.
"From an overall perspective, the survey presents very lukewarm results with respect to how satisfied most firms are with their bonus programs," says Kate Allen, P.E., PSMJ's Director of A/E Industry Surveys, "Unfortunately, too many firms report 'it's OK.' This is not a positive indicator."
These general results should provide a "wake-up call" to all design firms. Incentive plans must produce substantial benefits for both the firm and the individual managers. Having an ineffective bonus plan (read: "non-motivating!") is worse than having no plan at all.
"To be effective, the incentive program must be implemented to fulfill a certain need in the successful operations of the firm," Allen concludes. "It cannot be just another form of compensation expected by the participants. The results of this survey indicate that most firms are not achieving the level of satisfaction or motivation they should from their programs."
Every design firm should perform a comprehensive evaluation of its bonus program. If the level of satisfaction with the bonus program is lukewarm, and motivation is not apparent in the actions of the staff, the ability of the firm to promote individual success, and achieve its business goals is severely hampered.
One way to perform a comprehensive evaluation of your bonus program is participate in PSMJ's 2017 A/E Bonus & Benefits Benchmark Survey. The participation period has just launched, and will be open until January 13, 2017. Participants receive 40% off the price of the final report.
You also might be interested in these related blog posts:
2016 Circle of Excellence: The A/E Industry's Top-Performing Firms
Is Your Benchmarking Giving You the Right Answer?
Need to Know: COE Firms Benchmark for Financial Growth
Plan Ahead: Get Ready to Benchmark in 2017