In this tale of two architecture and engineering firms, one — we'll call them AB&C — is on top of its resource-management game.
Project managers and firm decision-makers at AB&C have the insight they need into resource utilization and availability to be consistently on-point with deployment decisions, forecasting and planning. Thanks to real-time project insight and resource scheduling tools, they can see exactly how projects are tracking from a resources standpoint relative to budget and schedule, then scale project teams accordingly. The firm itself has made resource management a discipline and a priority. And because it has a good handle on its resources, AB&C delivers better, more profitable project outcomes, makes better-informed hiring and growth decisions, reaps the benefits of a happy, highly engaged project workforce, and consistently wins the right kind of business.

The other AE firm in this tale, XY&Z, manually logs its project resource data in disparate spreadsheets, which creates a lot of unnecessary work for PMs, makes generating winning proposals difficult and inefficient, and hampers well-informed forecasting and planning around resources. PMs and leaders at XY&Z rely more on gut instinct than data-derived insight in their decision-making, hardly optimal in a business environment where every bit of extra insight a firm can glean matters to project outcomes, business pursuits and the bottom line.

Findings from our latest industry benchmarking report, based on a survey of close to 400 AE firms, some that profile closer to AB&C and others more like XY&Z, support what our experience has long suggested: that the maturity of a firm's resource management practices depends largely on how well it uses data and technology to support those practices. In short, firms that are more tech-forward in their resource-management practices (based on several predefined criteria) tend to outperform other more tech-static firms.

For firms that strive to be more like AB&C and less like XY&Z, the question then becomes, how to advance along that resource management maturity spectrum? Before I get to some of the steps firms are taking to become better at resource management, let's first take stock of where the AE industry as a whole stands on the issue:

• Resource management lands second on AE firms' list of biggest project-management challenges, right behind forecasting, an issue that relates directly to resource management.
• 72% of AE firms consider their resource management practices to be somewhat or very mature.

Again drawing from our benchmarking survey, let's examine the role technology plays in resource management maturity:

• Roughly half of tech-forward firms consider their resource-management processes very mature, compared to one-fifth of tech-static firms.
• Since the pandemic, tech-forward AE firms have fared significantly better than tech-static firms at recruiting and maintaining appropriate staffing.

With these benchmarks in mind, let's return to the question I posed a moment ago: How can an AE firm get better at resource management, and how can technology help them do that? Based on my experience supporting AE firms in their efforts to strengthen and refine their resource management practices, it takes a holistic approach that focuses on four areas: people, processes, tools and culture. By rating your firm in each of these four areas (with help from the graphic below), you should be able to target specific resource management improvements, and the steps to get there.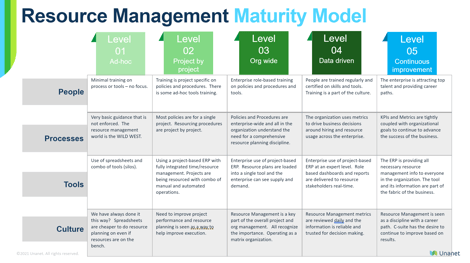 To really move the needle when it comes to improving resource management practices, keep in mind that tools alone won't do it. Instead, firms need to focus on making strides in all four areas. Let's look at some of the tools that can help firms make those strides.

Advancing from Level 1 to Level 2 entails replacing spreadsheets with some kind of project-based ERP system that automates certain processes and enables a firm to draw actionable insight from past project data. That system begins to establish a single, organization-wide source of data truth within the organization.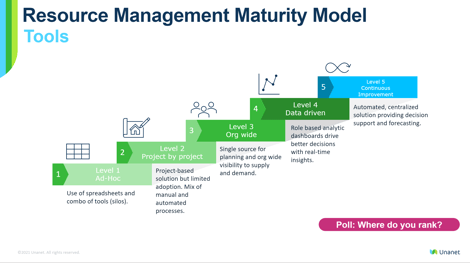 Moving from Level 2 to Level 3 requires widespread engagement with the ERP system across the business, where PMs and firm decision-makers understand the "Why?" behind using the system, and actively feed data into it. Ultimately, the more people who use and feed the system, the more accurate and up-to-date insights about resource supply and demand the system will yield. That, in turn, should spark intelligent, informed and collaborative discussions and decisions around resource planning and management, resource availability, etc.

For a firm to move from Level 3 to Level 4, it needs to master its data, so people can pull real-time resource data out of the ERP system and, using analytics tools, turn that data into insights that are as granular or as big-picture as needed to make decisions based on how schedules, budgets, etc., are trending.

Finally, there's the move from Level 4 to Level 5, where the tools at hand have created a highly automated and integrated resource management practice that, thanks to precise forecasting, spot-on capacity planning and a consistent ability to maximize resources, yields continuous improvement for the firm across projects and markets.

Whether your firm stands closer to XY&Z or AB&C on the resource management maturity spectrum, there's always room to improve. With the right technology tools in place to support your people, processes and culture, those improvements can come quickly, as can the bottom-line benefits they bring.

Lucas Hayden is director of AEC strategy for Unanet, a leading provider of project-based ERP and CRM solutions purpose-built for architecture, engineering, and construction firms, and government contractors.