Thank you to everyone who participated in our 2018 surveys – we couldn't do it without you!
Your participation provides vital information for the entire industry. Only with your help are we able to share the most current, accurate, and significant benchmarking data each year.
As we welcome the fall and head toward 2019, we'd like to congratulate the winners of PSMJ's 2018 Survey Participation Drawings.
While there can only be a few lucky winners, we appreciate everyone who participated in our 2018 Survey Program!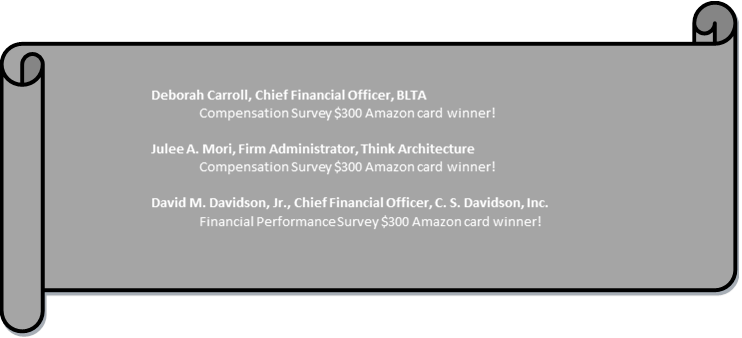 A quick note to let you know our 2019 Survey Program opens for participation January 1st.
We'll be in touch in the upcoming months, and we hope that you'll continue to participate in our industry surveys next year.

We're looking forward to a fantastic 2019 Survey Season!
Sincerely,
PSMJ's Survey Team
Jill Stoodley

Managing Editor, A/E Industry Surveys

Stuart Leibson

Surveys Analyst, A/E Industry Surveys
2018 A/E BENCHMARK SURVEY REPORTS + 2017 A/E BONUS & BENEFITS BENCHMARK SURVEY REPORT - COMPLETE SET
Here's the easiest way to get our latest surveys. The complete set of latest surveys includes:
• 2018 A/E Financial Performance Benchmark Survey Report
• 2018 A/E Management Compensation Benchmark Survey Report
• 2018 A/E Staff Compensation Benchmark Survey Report
• 2017 A/E Bonus & Benefits Benchmark Survey Report