With the high degree of disruption happening in the architecture/engineering/construction (AEC) industry, seeking and leveraging competitor intelligence is more valuable than ever. Whether ensuring that your firm is prepared to respond to disruption or gathering information that will help your brand become the disruptive force, it's well worth your time and resources.
Market research often requires highly specialized outside expertise, which puts it out of reach for many small and mid-sized firms,and firms without sizable marketing budgets. However, with the right research strategy, process, and tools in place, your firm can conduct meaningful competitive research in-house, or with the help of an outside marketing consultant, without allocating half of your annual budget.
Step 1: Why – Know Your Goals and Desired Outcomes
First, determine your primary goal for the research. You need to be very specific about what type of information you are collecting and why, and how you will use it. This will affect everything from the information sources and tools you use to the final output for your findings.
The information you seek must align with your goals. For example, do you want to uncover how your brand reputation compares to that of your competitors? Are you entering new markets, expanding your offerings, or simply trying to keep tabs on your ever-growing and evolving competitive landscape?
Are you looking to see who outperforms your firm in search engines? There's an app for that (actually, quite a few – see some examples later in the article)!
Step 2: Who – Identify Your Competitors
Don't assume that you know who your competitors are. Consider that all firms have at least two kinds of competitors:
The firms you always see in the lobby when leaving a project interview, or those who always seem to respond to the same RFPs.

The competitors that appear high in online searches when your prospects research the types of services or specialized expertise that your firm offers.
It's important to look at both of these groups. Why? Because your prospects do!
Step 3: Where – Know Where to Look for Information
Can you find data and market research already available?
There are numerous digital and social channels, including public websites, LinkedIn and review sites such as Glassdoor.

Your firm's CRM or a sales team may already have some relevant data.

Look through local record libraries, chambers of commerce or directory listings.
Identifying upfront what exactly you are looking for will help you narrow your data queries and save you from drowning in meaningless data.
Step 4: How – Know How to Look for Information
Not that long ago, it was common practice to ask marketing interns to call competitors and pretend it's for a college project. Today, we have countless tools at our disposal to discretely find out exactly what our competitors are doing.
Low-Tech: See What Your Customers See
A competitor overview offers a very general, high-level comparison very similar to what a prospect would be looking for when comparing firms at the early stages of their firm search process. Add a column for your firm so it's easy to see how you compare.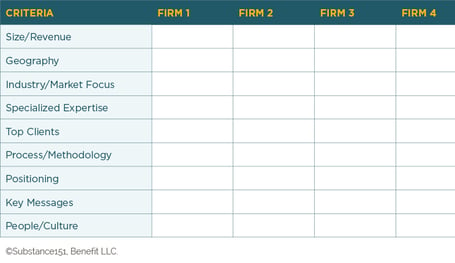 A brand perception analysis focuses on different aspects of the brand.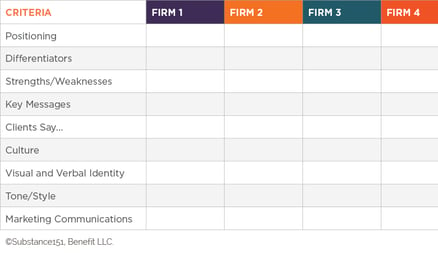 To evaluate your competitors' content marketing, conduct a content audit to capture the types and formats of their publicly published content, channels, frequency and topics.
Make a note of any conferences, webinars or podcasts where their experts present or any industry blogs and publications in which competing firms and their experts appear.
Want to go a step further? Download their gated content and sign up for their emails. You may want to use your gmail account for that!
Analyze what you've collected, looking for opportunities to fill any gaps in client education, thought leadership, case studies and industry trends.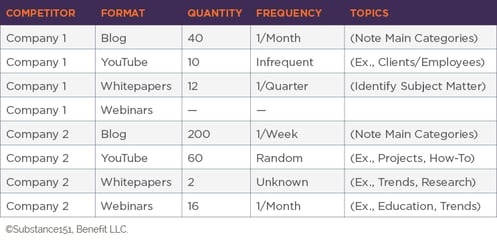 High-Tech: Go Behind the Scenes
But, what if you want to take a closer look at what your competitors are doing "behind the scenes"? There are many free or inexpensive tools and most apps offer limited free versions and trials.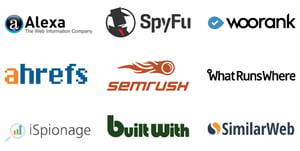 SEMrush and SimilarWeb reveal traffic insights for any website, offering a multitude of ways to spy on your competitors' organic and paid traffic, most successful keywords, backlinks, rankings and more.

A Chrome extension from Moz allows you to see details for on-page SEO, including titles, meta information, and keywords for any website you visit.

Buzzsumo tracks what content has been read and shared most, telling you not only what your competitors' content is but also which pieces of content are working the best for them.
Step 5: Knowledge Without Action Does Not Equal Result!
Setting clear goals and understanding what to collect and what information sources and tools to use will ensure that you have useful intel.
The critical next step is to use collected data and gleaned insight to achieve the goal you set at the beginning of your research project. Think about: What would be your top and immediate action?
Keep in mind that your competitive landscape is always evolving. Make sure to revisit and update your research data on an ongoing basis.
Always remember that competitor research is about creating an even greater point of difference for your firm – not about copying your competitors.
About the Author: Ida Cheinman is Principal and Creative Director of Substance151 – a brand communications firm focused on professional services and A/E/C industries. She uses her 20+ years of experience as a brand strategist, designer, marketer, and educator to help business leaders and marketing professionals make sense of trends, tools, and best practices in order to position their firms to win in the 21st century's fast-changing and extremely competitive marketplace. Connect with her on LinkedIn or Twitter.
PSMJ is always looking to publish diverse views on issues and trends in the architecture and engineering (A/E) industry. We invite you to submit a 500-word post on any industry-related topic. We look forward to hearing from you.