New PSMJ research shows that salaries are expected to climb as firms shore up efforts to attract and retain top talent.
Labor expense - the single biggest expense for architecture and engineering (A/E) firms - is set to get bigger in 2022 as firm owners and executives try to stay competitive in an increasingly tight labor market.
A December 2021 study conducted by leading A/E industry research, training, and advisory services firm PSMJ Resources, Inc. (PSMJ) found that the median expected 2022 salary increase for the architecture and engineering industry is 4.5%. Principals/Partners are seeing the lowest median increase (3.5%) while entry- and mid-level positions (Technical and Professional Staff) are seeing the highest increases (5.0%).
PSMJ tracks projected salary increases each year in its A/E Management Compensation Benchmark Survey. For comparison, PSMJ's 2021 A/E Management Compensation Benchmark Survey Report (data collected in January/February 2021) showed an average projected salary increase for 2021 at just 3.0%. In fact, projected increases haven't been this high since 2008 when the median expected salary increase reached 5.0%, just before the industry entered The Great Recession. The U.S. Bureau of Labor Statistics is also forecasting an average hourly wage increase of 4.5% increase in the A/E industry.
The following table summarizes the expected 2022 salary increases by job level, per PSMJ's December 2021 study of 241 A/E executives:

"There are several factors driving the upward push on salaries. Of course, the basics of supply and demand as well as record-setting levels of inflation are two big ones," stated PSMJ Director David Burstein, P.E. "The key here for A/E firm leaders is to not let this trend erode profit margins. Now that demand for A/E services is at an all-time high, firms should increase their billing rates and lump sum fees by more than they increase their labor costs."
To help A/E leaders adjust their firms' policies and practices to this new reality, PSMJ developed the executive education event, Winning A/E/C Compensation Strategies LIVE ONLINE Master Class. After the December 2021 class sold out, PSMJ added a new class starting January 11, 2022. Using real-world scenarios, proven solutions, and current A/E/C compensation data, this highly interactive, hands-on workshop shows how to set pay scales, attract the best talent, control payroll creep, motivate high performance, and sustain strong profit margins... in ANY economy. Click below for more information.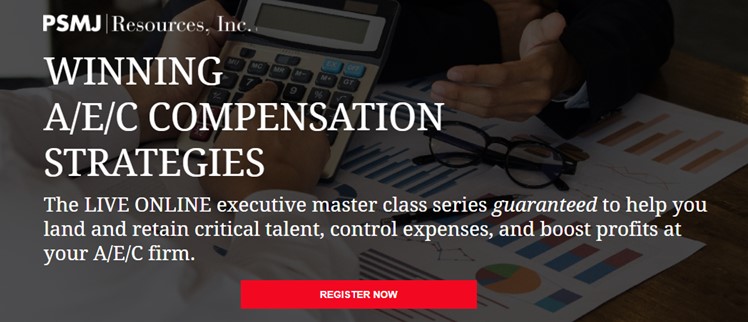 Special early-bird registration rate (SAVE $200) ends December 28th.