Every owner at some time will come to the question: What is my company worth? The bottom line is that your company is worth what someone will pay for it. But, that doesn't mean that business valuation is all art and no science.
In reality, business valuation is equal parts art and science. To understand what an architecture or engineering (A/E) firm is worth, there are a number of methods (each with pros and cons) that valuation experts use and no shortage of formulas and other means that A/E firm leaders apply to their organization. In this process, one of the biggest issues that we see valuation experts and A/E firm leaders alike encounter is a lack of reliable valuation multiple data geared specifically for the A/E industry.

Over the last forty-plus years, PSMJ has been a leader in the valuation of A/E firms for both internal succession planning and external mergers or acquisitions. Our experts have conducted thousands of valuations and advised on many internal ownership transitions as well as mergers and acquisitions.

It is from PSMJ's unique position in the A/E industry that we have developed the all-new 2015 A/E Valuation Survey. In this report, we share some key statistical results and aggregate multiple data derived from valuations performed since 2009.

This study has been developed to provide you with critical insight into valuation and market trends specifically in the A/E industry. The data contained in this report is based on valuations performed for 105 firms where our valuation analysis was performed for the purpose of internal share transfers as well as an external sale. Accordingly, this analysis is based on 210 valuation data points. The firms included in this data set range in size from fewer than 20 employees to some of the industry giants practicing architecture, engineering, or both.

Unlike other studies or reports on A/E firm valuation, this report presents data based on actual valuations used to drive both internal and external share transactions. It is NOT simply based on data acquired through a general self-reported survey. To this end, for the valuation data used in this report, financial statement data has been reviewed and adjusted as needed and relevant methods of valuation were applied in arriving at a value. What does this mean? It means the data, and therefore the results, have a relatively high degree of consistency and reliability.

It is also important to note that the application of the data and information provided in this document should not be considered a substitute for a formal business valuation. A business valuation is an in-depth process, using both subjective and objective methods and measures that must t ake into consideration many aspects of a firm, the projected future of the firm, the current economic environment, industry norms, market conditions, and other factors as of the valuation date.

We, at PSMJ, hope that you will find this report to be a valuable tool in managing your firm through ownership transition or an external sale.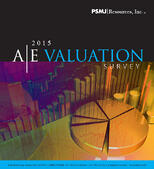 Related Posts:
How to Make the Best Valuation of Your Firm
If The Most Important Fact In Firm Valuation Isn't Growth Or Profit - What Is It?
Bradford Wilson, CMA is a Senior Consultant for PSMJ Resources, Inc. He can be contacted at bwilson@psmj.com.