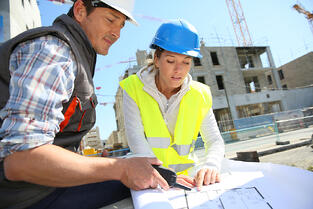 Forming a strategic alliance isn't a walk in the park, but when it's planned correctly and the parties commit the right level of leadership and resources, your architecture, engineering, or construction firm can win work that was previously out of reach.
Here are ten major benefits of forming a strategic alliance. A strategic alliance enables your firm to:
1. Gain new client base and add competitive skills. Seek an alliance partner with a strong specialty reputation to augment a firm's skill set and create a force that offers the total package to your clients. Gaining new competitive skills without incurring the burden of recruiting, paying and caring for new staff is one of the two top alliance-model sellers.
2. Enter new business territories. Entering new geographic marketplaces with a partner who knows the ropes in a particular territory is the second top alliance-model seller because it can shave years off the geographic expansion learning curve. Seek an alliance partner with well-developed relationships and complimentary work experience in the territory you are targeting to create a force that offers a compelling total package to this new geographic marketplace.
3. Create different sources of additional income. Rather than duplicating resources or outsourcing to non-alliance partners, keep the work in the family by improving and expanding the resources already available within your own firm to service your partner.
4. Level industry ups and downs. Use your alliance partners to outsource work during rises in your or your partner's marketplace economic cycle. Once your alliance is up and running and the new team has joint work experience under their belts, you can help each other out as the markets ebb and flow.
5. Build valuable intellectual capital. If you are trying to dig deeper, think harder. Be a more holistic client advocate, and ally with a complimentary or even a competitor firm to create the magic.
6. Affordable alternative to merger/acquisitions. The A/E/C industry is primarily a collection of small- to medium-sized firms. Leaders of these firms typically strive on independence and are more than likely reluctant to grow through the merger or acquisition of others. This model allows interdependence to occur where mergers and acquisitions is a dependent model, enabling leaders to have their cake and eat it, too.
7. Reduce risk. Keep doing what you do best. We were educated to understand that we can do "anything and everything." The honest truth is—we cannot. But as a long-term team and collection of others with complimentary talents, we can come much closer to our ideal of doing anything and everything.
Clients continue to become more and more attuned to our practices. The whole concept of "anything and everything" brings with it the baggage of risk and liability by not always knowing the ultimate consequences of designing some things for which we need more knowledge. Your alliance partners and you can actually lower this liability issue if your complimentary skills increase your ability to delivery higher quality and therefore, a more thorough work product.
8. Leapfrog the competition. Reap the benefits of the hype surrounding "the federation." A new alliance in the marketplace can become a formidable new force for competitors to fear. It will also fascinate clients. Create a solid value proposition for your new alliance from the start, building on it over time.
9. Gain new resources and improve existing resources. Provide your resource teams with in-depth training and mentoring without hiring trainers or consultants.
10. Create a different perception of each firm. For example, many observers may view your firm as a small firm that specializes in a narrow range of project types. By entering into a successful alliance with a well-established firm specializing in a broader range of project types, your firm will likely benefit from the reputation of the established firm, while creating a softer image for the well-established firm.
Now it's your turn: Has your firm engaged in a strategic alliance? If not, what has stopped you? If yes, what were the benefits? What challenges did you face? Did you set up formal agreements? What did they contain? We welcome your comments.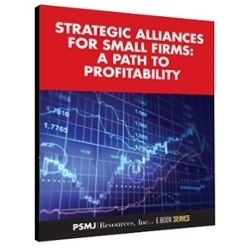 This article is an excerpt from PSMJ's complimentary ebook Strategic Alliances for Small Firms: A Path to Profitability, a concise overview of the essential information on what it takes to have a successful alliance in today's economy, directly from PSMJ's business development experts.