Better Business Design Management Series
Publisher: PSMJ Resources, Inc.
Date Published: 2013
Availability: In-Stock
Format: Hardcopy & PDF
Price: $347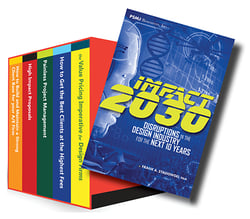 Want to become a A/E/C business management expert? Or give a career-enhancing gift to colleague in architecture or engineering firm management?
Order the Better Business Design Management Series and get 5 books that can transform your firm's performance in all areas. You or your lucky recipient get everything needed to master design firm management—while saving 40%!
The Value Pricing Imperative for Design Firms explains exactly what you need to do to implement a competitive pricing strategy. This book is packed with proven practical advice on managing costs and contract types, pricing change orders, cost accounting techniques, negotiating methods, liability considerations, bidding approaches and much more.


In How to Get the Best Clients at the Highest Fees, you learn the specific factors that, when aligned, generate high fees and high profits. Learn specifically how to PRICE YOUR VALUE, exceed your client's expectations, and build ongoing professional relationships. There's no need to bid ever again.


Painless Project Management spells out your project management role from business development all the way to overcoming budget problems and exceeding client expectations every step of the way. In this 418-page book, you learn proven strategies and tactics you need to build deeper client relationships, deliver stronger financial performance, and stand out from the pack.


Whether you know that your proposals need an overhaul or just want some inside tips from the experts on how to improve, PSMJ's High Impact Proposals is for you. High Impact Proposals puts the tools that you need for success right at your fingertips. This compilation features some of our best-selling and most popular articles and thinking on what it takes to build a proposal that gets you the job.


How to Build and Maintain a Strong Client Base for Your A/E Firm takes you from start to finish and gives you proven and action-oriented advice to tackle every challenge that comes your way. Now more than ever, you cannot simply hang out a shingle or rely on your technical expertise and experience to bring clients to your door. To grow and thrive in today's economy, you need sound and proven marketing strategies and tactics.
BONUS
IMPACT 2030: Disruptions In The Design Industry For The Next 10 Years
With your purchase of the Better Design Business Management Box Set, you get a complimentary copy of IMPACT 2030: Disruptions In The Design Industry For The Next 10 Years. This groundbreaking and far-ranging examination of inevitable changes outlines how demographics, globalization, government expansion, and technology advances can benefit firms that plan ahead—and be devastating for those that don't prepare.
As a leading industry voice, PSMJ Founder and CEO Frank A. Stasiowski, FAIA examines the state of our industry today and reveals the disrupters that will radically alter it by 2030. Just as a far-off earthquake can cause a Tsunami, forces and trends building now will shake the traditional design industry:
Clients visiting buildings not yet constructed
Mistake-free designs with liability reduced to zero
Building made to throw away and infrastructure developed to collapse
And more...
A $97 value, FREE with your Box Set purchase.