A/E/C Bulletproof Project Management: The Ultimate Project Management Manual
Publisher: PSMJ Resources, Inc.
Date Published: 2018
Number of Pages: 483
Availability: In-Stock
Format: Hardcopy & PDF
Price: $597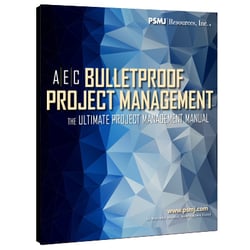 Absolute confidence comes with bulletproof A/E/C project management. This self-assurance arises from arming your Project Management team with the means to consistently produce viable, profitable projects.
Home-grown, cobbled-together PM approaches will not cut it. To overcome the challenges today's A/E/C PMs face they need proven tools, solid strategies, and expert resources. To take advantage of the economic upturn, you need to strengthen your A/E/C project managers so they can deliver improved project outcomes, better financial performance, and added client satisfaction.
Load up your Project Managers with tools that have a proven success record. Provide them with resources that only PSMJ experience can deliver. This is A/E/C Bulletproof Project Management and it is the only resource that is a roadmap to A/E/C project management success. You not only get proven strategies that get results in virtually every facet of project management, you gain never-fail approaches for effective A/E/C project management.
Here's just a peek at what we have in store for you…
4 ways to Manage Scope—Don't forget to identify client responsibility
10 common scheduling mistakes—We tell you how to "sell" the schedule
6 must-have kickoff results—Don't leave the meeting without these
1 proven way to control performance—20+ pages devoted to a proven method
20 questions to ask before it is a "go"—Yes, the politics of selection is on the list
8 ways to shape contracts—Each can help your bottom-line
20 ways to find new business – Real-world strategies to uncover opportunities
And, this is just a small part of the value your team gains from A/E/C Bulletproof Project Management. This resource—written with the help of A/E/C Project Management Bootcamp instructors and successful firms—hands you a comprehensive roadmap of ways your PMs can maximize project and firm success. No other resource in the A/E industry comes close.