A/E Recruiting Study
Publisher: PSMJ Resources, Inc.
Date Published: 2019
Number of Pages: 30
Availability: In-Stock
Format: PDF
Price: $247 (Free with a PSMJ Membership. Click here to become a member.)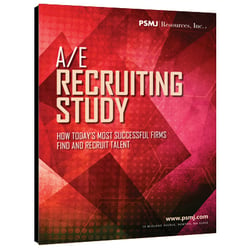 In this report, A/E Recruiting Study: How Today's Most Successful Firms Find and Recruit Talent, we present the results of a study that PSMJ recently conducted on A/E firms' recruiting practices. To our knowledge, with 161 participants and rich analysis on firm recruiting practices, and the effectiveness of these practices, this is the most comprehensive research of its kind that has ever been conducted in the A/E industry—certainly that has been conducted recently.

We begin this report by discussing the methodology that we used in conducting our survey. Next, we present the results of the study, starting with what we learned about talent acquisition needs in today's A/E firms, followed by what we learned about the wide variety of ways that firms find and recruit talent and how effective they are.

In this report, we also compare this year's results with those from similar recruiting studies done in 2017 and 2013. In addition, we include data on what recruiting practices respondents believe are the most effective, as well as how effective firms feel their recruiting program is overall.

In 2019, we also asked firms to discuss how each of their specific recruiting programs work. Then, we categorized these open responses according to the topics that participants referred to more than once, and calculated the percentage of responses per topic.

We wrap up with specific conclusions based on how the most successful firms find and recruit talent. Our goal is to provide new insight into best practices for A/E firm recruiting. Finally, we present the nature and demographics of the participants in this study.