A/E Project Manager Training, Onboarding, Internships, & Social Giving: Essential Reference Guide
Publisher: PSMJ Resources, Inc.
Date Published: 2019
Number of Pages: 311
Availability: In-Stock
Format: PDF
Price: $287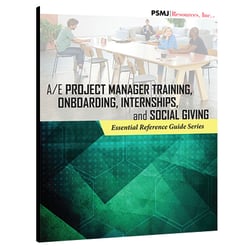 REAL A/E HR forms covering PMs, new staffers, interns and more!
Today's A/E industry HR professionals assist with their firms' staff growth and retention, client acquisition, and project quality. A finely tuned project manager training program, an appropriate onboarding process, as well as carefully crafted internship and social giving programs are foundational today, but can easily be overlooked.
Due to the amount of responsibility placed on the project manager, A/E firms must ensure that the individual they choose for the job will get it done well, meaning on time and within budget. The success of the project is ultimately in the hands of the PM. The client will undoubtedly consider the PM to be the single greatest reason to return with more business. Conversely, the client will hold the PM accountable for the failure of a project. Therefore, one must acquire the necessary skills and training to be a successful project manager.
Equally important is a firm's onboarding process. Having a written policy on how new employees are integrated into the firm is crucial to a new employee's experience, as it sets the tone for the rest of their time at an organization.
Fairly new, but also important is documentation covering how a firm deals with internships and social giving. That is where this reference guide comes in!
PSMJ Resources, Inc. just reached out to architecture and engineering firms and gathered their most recent forms. We found most firms are using:
Traditional Position Guides and Project Checklists for PMs
Onboarding Communications that set firm expectations
Goals and Plans that establish Intern Expectations
Social Giving pronouncements and statements
Isn't it time to see what other firms are using to set up their PMs for success, set goals for new staffers, and keep social giving programs and internship programs on par with their competition? This valuable resource contains forms from more than 30 firms. These are HR staff development tools currently used by your peers and competitors.