A/E Mergers & Acquisitions Study: How Today's Most Successful Firms Grow through Acquisition
Publisher: PSMJ Resources, Inc.
Date Published: 2019
Number of Pages: 29
Availability: In-Stock
Format: PDF
Price: $247 (Free with a PSMJ Membership. Click here to become a member.)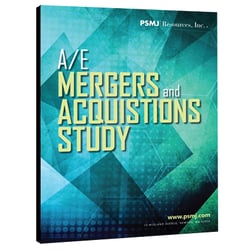 In this report, A/E Mergers & Acquisitions Study: How Today's Most Successful Firms Grow through Acquisition, we present the results of a study that PSMJ conducted regarding merger and acquisition (M&A) practices in the architecture and engineering (A/E) industry.
With a total of 122 participants, this study covers a variety of elements related to high‐level M&A strategy as well as the nuts and bolts of putting together a successful transaction. It also covers how A/E firms are planning for future M&A opportunities: what their goals are as well as the elements of the M&A process they find the most challenging.
For the most accurate and representative M&A trends, our research on recent acquisitions is limited to participants that have completed at least one merger or acquisition in the past ten years. Additionally, all participants are strategic (as opposed to financial) acquirers. That means that they are all operating companies in the A/E space or in a related industry. None are solely financial investors.
To provide additional context, we correlate how successful these participants perceive their transactions to be with a number of key factors such as firm size, ownership, relationship with acquired firm, reason for acquisition, transaction structure and terms, and much more. As the A/E industry evolves, we believe this is a valuable perspective to not only illustrate noteworthy trends but also to provide insight into what are the best practices for M&A success.
Finally, beyond just providing data and research, we strive to provide action-oriented advice around what to do with this information. And so, we wrap up with eight specific recommendations based on how the most successful firms can sustainably grow through acquisition.