A/E Job Performance Evaluations: Essential Reference Guide
Publisher: PSMJ Resources, Inc.
Date Published: 2018
Number of Pages: 435
Availability: In-Stock
Format: PDF
Price: $287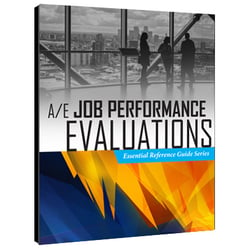 REAL A/E firm job performance evaluations!

As mainstream businesses abandon traditional, annual performance appraisals, the need to ensure and document performance excellence and met training goals, never grows old. With a strong foundation in accountability, the architecture and engineering industry search for alternative approaches. Most, not ready to abandon tried-and-true methods, reach for a mixture of old and new ways to evaluate staff.

PSMJ Resources, Inc. reached out to architecture and engineering firms and gathered their most recent forms. We found most firms are using:

-Self evaluations that cover achievements and challenges
-Traditional performance evaluations that set job standards
-Goals and development plans that establish expectations
-Progress reviews that document development and growth

The importance of employee job performance evaluation and development planning has never been greater in the A/E industry. The firms that figure out how to effectively assess job performance will know:

-the right questions to ask
-the right way to ask them
-the right time to ask
-what elements are important

Isn't it time to see what other firms are using to discover skills gaps, set goals, and keep timely record of performance?

This valuable resource contains performance evaluation forms from more than 70 firms. These are employee development tools currently used by your peers and competitors.

If you have inconsistent, ineffective, (or non-existent) job performance evaluation forms, this book is for you. You won't be flying blind when it comes to preparing, updating, or upgrading your firm's performance evaluations and you won't be relying on generic examples that have no relevance to the business that you are in!