A/E Job Descriptions: Essential Reference Guide
Publisher: PSMJ Resources, Inc.
Date Published: 2018
Number of Pages: 1249
Availability: In-Stock
Format: PDF
Price: $347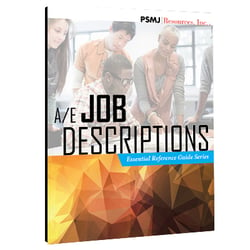 REAL A/E firm job descriptions!

You're an HR professional fueling your firm's staff growth, client acquisition, and project quality. You're busy, so it's easy to forget a foundational prerequisite: current job descriptions.

Job descriptions feed the firm's critical recruitment efforts, sets the table for training and skills development, and provides for fair evaluations and compensation. Your job descriptions matter, they:

-Offer a jump start to critical job postings
-Establish sound performance goals
-Lead to a firm's career mapping and development plans
-Point toward individual staff training and certification needs
-Allow you to benchmark against the competition

If you're still using inconsistent, outdated, or incomplete job descriptions, beware—because you're playing down to the lowest denominator.

Whether you know your job descriptions are ready for an overhaul or simply wish you could benchmark your job descriptions against industry norms, the process can be daunting. Where do you begin and how can you find sample job descriptions tailored to the unique nature of the A/E industry?

Look no further... PSMJ just made the process a whole lot easier.

Who best to redline, review, and ensure quality of design documentation? Should a Creative Director be in charge of press releases? How much time should a managing director devote to developing on-going training for Project Managers?

You'll find the answers to these any many other important questions here.

This reference guide contains hundreds of real job descriptions—over 1,000 pages of actual forms—from firms just like yours! This value-packed reference guide gets right to the point with actual job descriptions from CEO to billing specialist, and everything in between. PSMJ does the leg work for you and you won't spend countless hours re-inventing the wheel or run the risk of creating useless and irrelevant job descriptions.