A/E Financial Management Software Study
Publisher: PSMJ Resources, Inc.
Date Published: 2018
Number of Pages: 52
Availability: In-Stock
Format: PDF
Price: $247 (Free with a PSMJ Membership. Click here to become a member.)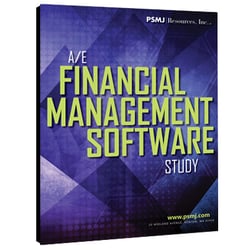 There are few decisions that have such a significant enterprise-wide impact on your architecture or engineering (A/E) firm as selecting a financial management software application. For starters, there can be huge dollars are on the line with this investment…and that is before you consider lost time spent on research, training, and other efforts. Make the wrong choice and the impacts on your firm can be lost revenue, lost profits, or worse.

Of course, you try to do your homework to make an informed decision. Is this the right application for our firm? How does the support compare to other applications? How easy is it to switch from or to another application? But, it can seem difficult to get candid and objective data on these and many other questions during your research. Salespeople will have their agenda and there is no telling what the motive is of feedback that you find in various forums and such.

The good news is that you aren't the first one to go down this road. So, isn't there a way to gather the lessons learned and unvarnished feedback from others who've gone ahead of you? In a word, YES!

PSMJ's A/E Financial Management Software Study taps into nearly 400 A/E firm leaders to boil down their thoughts on the most popular financial management software applications used by A/E firms today, including:
-Deltek Vision
-Deltek (Axium) Ajera
-BQE BillQuick
-Clearview InFocus
-Quickbooks
-And others!

This easy-to-read study gets you the data and insight that you need to make high-quality decisions when it comes to critical factors such as:

-Which applications make it easiest to get the information that we need?
-Which applications offer the best and worst support?
-Which applications make it easiest to convert from another application?
-Which applications would A/E firm leaders recommend to others?
-And many more!

Because there is no one-size-fits-all approach to this decision, we break out the data into three firm size groups:

Small Firms: Fewer than 30 employees
Midsize Firms: 30-199 employees
Large Firms: 200+ employees
Plus you get boatloads of open, candid, unvarnished feedback on specific applications to let you hit the ground running when evaluating your options…
"It's buggy sometimes. If performs operations that don't make sense."
"For the first time in 15 years, we have a vendor who actually cares what the industry wants!"
"The ability to add fields is really great."
"When invoicing, it rounds every line item and this requires manual fixes."
"The document manager is too confusing and has inconsistent report screens."
If you are considering making an investment in financial management software, don't make another move until you have read this study. This one small investment may be the easiest way to avoid a million-dollar mistake!