A/E Business Development Study
Publisher: PSMJ Resources, Inc.
Date Published: 2016
Number of Pages: 34
Availability: In-Stock
Format: PDF
Price: $147 (Free with a PSMJ Membership. Click here to become a member.)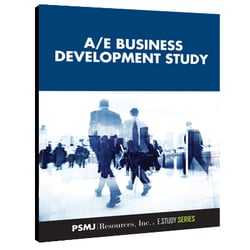 In this report, A/E Business Development Study: How Today's Most Successful A/E Firms Keep Their Clients Happy and Win New Work, we present the results of a study that PSMJ recently conducted regarding business development practices.

To our knowledge, with 106 participants and rich analysis on how a variety of factors impact business development effectiveness, sales performance and client satisfaction, this is the most comprehensive research of its kind that has ever been conducted in the A/E industry — certainly that has been conducted recently.

We begin this report by discussing the methodology that we used in
conducting our survey and then review the nature and demographics of the participants in this study.

Next, we present the results of the study, starting with what we learned about business development in today's A/E firms: If firms have a fulltime business development staff and how it functions, and how they train their full-time business development staff.

In this study, we asked a range of questions relating to firms' business development practices, and then overlaid that data against firms' financial performance, proposal performance, and client satisfaction, i.e. their business development effectiveness.

And finally, we wrap up with seven specific recommendations based on how the most successful firms are able to keep their clients happy and win new work. Our goal is to provide new insight into best practices for effective business development.