57 A/E/C Work From
Home Policies:
The Essential Guide
Publisher: PSMJ Resources, Inc.
Date Published: 2020
Number of Pages: 177
Availability: In-Stock
Format: PDF
Price: $247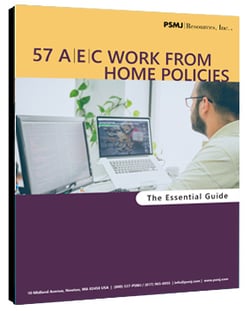 The COVID-19 crisis has rocked the A/E/C industry and upended traditional work arrangements -- perhaps permanently. Is your firm ready?

See EXACTLY how peer firms have adjusted workplace policies and procedures to thrive in the next normal, and easily apply their best approaches at YOUR firm. Get the all-new, instant-download management resource packed with REAL and CURRENT post-COVID-19 work-from-home and work-from-anywhere plans and policies ACTUAL A/E/C firms are successfully implementing. Ready to cut and paste into your own workplace documents.
Save HUNDREDS of hours of research, review and revision!
If your firm is like most, it's coming OUT of the COVID-19 crisis, but many employees aren't so ready to come IN. Forced to work from home during the pandemic, they are eager to maintain new arrangements, and if you want to retain them and keep them engaged and productive, it's up to you to make it work.
Good news! The all-new 177-page reference created just for firms facing new demands and expectations, 57 A/E/C WORK FROM HOME POLICIES: THE ESSENTIAL REFERENCE GUIDE is now available for instant download. It delivers curated and redacted remote work management documents you can cut, paste, and apply to your own employee handbook, staff memos and emails, internal postings, and presentations. You get everything you need to keep track of hours works and project status, secure critical firm and client data, manage expenses, determine employee eligibility, maintain utilization and productivity KPIs, and so much more!
This one volume saves hours of work and thousands of dollars in expensive A/E/C firm management missteps by giving you:
• Sample Temporary Telework Policies
• Sample Remote Work and Flexible Schedules Policies (over 100 pages!)
• Sample Telecommuting Agreements
• Sample Questionnaires and Checklists
• Sample Memos
• Sample Best Practice and Guidelines
Order your copy today and get everything you need to manage your teams effectively as they work from anywhere!