2022 A/E Circle of Excellence Benchmark Tool
Publisher: PSMJ Resources, Inc.
Date Published: 2022
Format: Excel
Price: $499
For previous versions of this tool contact Diane at dconstantine@psmj.com or call (617) 965-0055.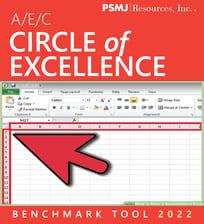 This one-of-a-kind product provides MS Excel spreadsheets containing the data that allows you to compare your performance against the very best in the business—the top 20% of those firms that participated in the 2022 A/E Financial Performance Benchmark Survey Report.
Once you enter your own firm's data, you can compare your firm's performance to that of the very best in the industry. It's that easy! With the PSMJ A/E Circle of Excellence Benchmark Tool, you get comparison data at your fingertips... a comparison for each of 13 key metrics… without having to do any research!
This data comes directly from PSMJ's Circle of Excellence: 2022 Best Practice Benchmark Summary.
Achieve proven results and save hours of your own research time.