Circle of Excellence: 2019 Best Practices Benchmark Summary
Publisher: PSMJ Resources, Inc.
Date Published: 2019
Number of Pages: 22
Format: PDF
---
Circle of Excellence: 2019 Best Practices Benchmark Summary + Tool Bundle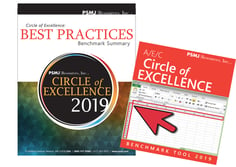 Survey Report + Benchmark Tool =
The Superior Decision Making Resource
Save big and get even more value from your Survey Report when you bundle it with PSMJ's A/E Circle of Excellence Benchmark Tool.
The Benchmark Tool, gives you sophisticated MS Excel spreadsheets that make it easy to compare your firm's bonus and benefits against firms of similar size, service, client type, and market. Just input your data, and instantly get a clear, objective look at where your firm stands, using the latest benchmarking indicators.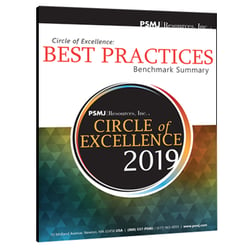 PSMJ designed the Circle of Excellence to highlight successfully managed firms that demonstrate outstanding achievements in all aspects of their businesses. Each year, the Circle of Excellence represents the highest performing participants in PSMJ's annual A/E Financial Performance Benchmark Survey, based on 13 key metrics.
Rather than focus only on the most profitable firms, or those with the highest growth rate, which could be accomplished without solid business practices, our analysis determines the top 20 percent of firms with the best overall business performance.
Together, the 13 benchmarks encompass critical aspects of business operations including cash flow, overhead control, business development, project performance, staff utilization, and overall profitability. We believe outstanding performance across these areas better indicates a well-run and successfully managed firm.
An analysis of the benchmark results reported by the Circle of Excellence firms indicates superior performance across the board. This is reflected by the following:
Higher direct labor multipliers generated from project operations
Lower overhead rates
Higher utilization of staff members on projects
Faster invoice collection times for enhanced cash flow
Higher growth rates in both staff size and gross revenues
Lower turnover rates
Higher profit margins
Higher returns on overhead and working capital
Higher net revenues earned for each staff member
More backlog as a percentage of net revenues
This report allows you to benchmark your firms overall performance against the best in the industry.