Some project managers are skeptical that they need to spend a lot of time on a formal project management plan (PMP). They think that they can just go ahead and get started. In fact, this is a too common fallacy in the architecture and engineering industry right now, the result of which reveals itself in one recent industry study.
One large engineering firm did an in-depth study of 500 projects that lost money. What do you think was the most important reason why those projects were unsuccessful? Well, the answer is lack of planning. (See chart below). We are all too guilty of wanting to get started too soon.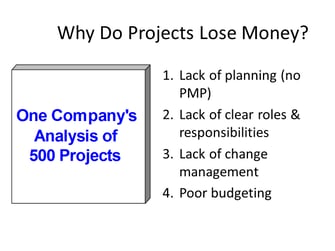 As indicated in this chart, there are other major reasons why projects lose money, including the lack of clearly defined roles and responsibilities. The most important responsibility to define is that between the principal in charge and the project manager. That is the partnership for success.
Lack of change management and poor budgeting are other critical causes of unsuccessful projects. Have you ever seen a successful project that has not had change and budgeting? Budgeting should be a process of communication and growth development.
Take the Time to Prepare a PMP
There are several critical reasons that project managers need to take the time to prepare a project management plan. Here is a list summarizing these reasons:
Get your team informed.

Set goals.

Get management approval, team input & commitment.

Contingency planning.

What if things don't go as planned?

Get your client on board.

Make them part of the team.
Developing a PMP is just one of the numerious topics covered in PSMJ's recently released series of e-learning project management training courses for new and seasoned A/E/C project managers.