Of course, there will be a long list of questions that prospective buyers will have when identifying and screening acquisition targets. But, for prospective sellers, the initial courtship discussions need not and should not feel like a scene out of Columbo with a one-way street of probing questions...and a growing sense of uneasiness with every question asked! Instead, this is absolutely a chance for the prospective seller to size up the opportunity as well and gauge alignment of culture and objectives.
Many of the most progressive buyers understand the importance of dialogue in these early meetings, and will often come to the initial discussions with a package of information to introduce you to their firm. They will also be quite transparent and take a bit of a "seller" mindset in getting you to "buy" in to the opportunity. However, if you are a seller wondering what to ask when opportunity comes knocking, this article is for you.
This isn't meant to be exhaustive nor is it meant to imply that all of this information should be revealed right off the bat in the first meeting. But, keep this list handy when entering into the initial pre-Letter of Intent meetings and/or discussions.
I. Strategy
Tell us about your long-term strategic business plan.

Why are you now acquiring?

What do you hope to accomplish by acquiring our firm?

Are you considering other firms? Where?

Describe your current ownership structure.

Tell us about how management decisions are made.

What roles do you anticipate our principals will play in the combined firm?

Who is authorized to finalize this deal?

Tell us about previous acquisitions and the outcome.
II. Marketing

Tell us how our services complement or conflict with yours.

Describe your sales culture.

What marketing process do you use?

Can you show us some typical proposals?

How will we handle telling staff, clients, and the public?

Tell us about your market communications and public relations programs.
III. Project Delivery

Tell us how you organize project teams.

Describe the role of the project manager.

Can you share your project reports with us?

Do you consider yourselves departmental, matrix, studio, or another form of organization?

May we see an organization chart?
Human Resources
Tell us how your compensation plan is structured.

Tell us about your performance review process.

Describe who gets bonuses and special recognition, and how they are earned.

Tell us about your fringe benefit program.

Who gets special perks like cars and travel?

What are your payment policies for outside contractors?

What roles do your principals play in day-to-day operations?

What training programs do you offer employees?

Describe your internal communications program.

What are your policies on recruiting, promoting, hiring, and firing?
IV. Finance
Can you show us how you contract with clients? Lump-sum or hourly?

What is your net revenue per person?

Describe the ownership structure of your firm.

With whom in the company do you share financial information?

How long after month-end do you get statements?

How will you finance this acquisition?

May we see your current balance sheet?

What liability issues are you dealing with?

What are your cash requirements for the near future?
V. Transition
Describe your leadership transition program.

How is stock given to new owners?

What is your long-term transition plan?

Describe the differences among ownership, leadership, and management at your company.
If you haven't gotten the hint from reading through this list, getting specific and to the point is vital for a win-win deal. Don't gloss over the sticky stuff and don't be afraid to dive in and get to the true issues underneath all of this. It will only help (not hurt) subsequent planning and negotiations!
Looking for more strategies and tips for M&A success? Check out a A/E/C Mergers and Acquisition Roundtabl …two days of case studies, data, advice, and more!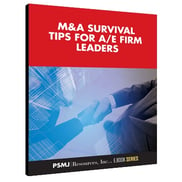 Merger & Acquisition (M&A) activity in the architecture and engineering space is certainly on the upswing and well on its way to reaching pre-recession levels. But, how ready are you for taking on the task of buying or selling an A/E firm? If you are looking for tips to help your firm navigate through the M&A process, check out PSMJ complimentary ebook M&A Survival Tips for A/E Firm Leaders.

Other M&A Related Posts
Getting Ready to Sell? Think Like a Buyer!
What You Must Know About Private Equity
Growing Revenue = Growing Valuation? Be Careful What You Wish For!
Expert Interview: Assessing Current M&A Market Conditons and Trends
How prepared are A/E firm leaders to undertake M&A?