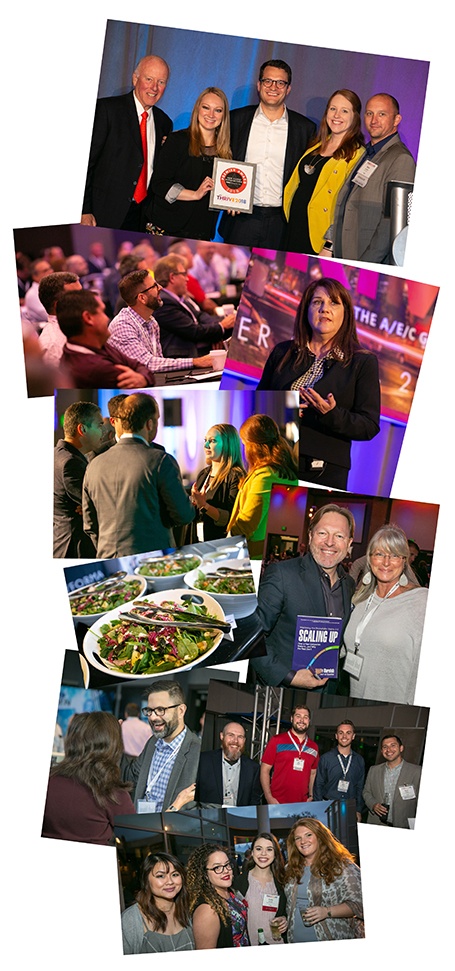 WELCOME COCKTAIL RECEPTION AND TRIVIA NIGHT
(RSVP REQUIRED)
On the evening of Wednesday, October 2nd, before THRIVE 2019 commences, we invite you to join us for cocktails and dinner with fellow attendees and a bit of fun with our annual trivia night (hint: you might want to study up on PSMJ's 2019 A/E Financial Performance Benchmark Survey Report before heading to New Orleans!). There is no additional fee for this reception and dinner, but RSVP is required (guests are welcome, but an additional fee applies).
AWARD CELEBRATION: CIRCLE OF EXCELLENCE • PLATINUM AWARD • PREMIER AWARD
Get ready. This is going to be big - and we are doing it differently than ever before! One of the always-popular events is our awards celebration featuring Circle of Excellence, Platinum Award, and Premier Award for Client Satisfaction winners. On the evening after the first full day of the conference, join us for dinner, drinks, and a toast to our 2019 award winners. And, that is just the start. Our exciting awards after-party will feature prizes, partying, and more well into the night! This celebration is included with your registration fee and RSVP is required (guests are welcome, but an additional fee applies).

Circle of Excellence
Recognition as a Circle of Excellence firm is restricted to the top 20% of firms participating in PSMJ's A/E Financial Performance Benchmark Survey. Selection for this exclusive designation is based on 13 key financial and operational performance metrics. These firms really are the best of the best. Members of the Circle of Excellence receive a winner package which includes discounted registrations for all firm members in attendance.



Platinum Award Platinum Award
To earn the Platinum Award, an A/E/C firm must make it into the Circle of Excellence for four of the previous five years (including the current year). The ones who make the cut to win the Platinum Award display an unparalleled level of consistency and achievement across many different aspects of their business.

The Premier Award for Client Satisfaction
The Premier Award for Client Satisfaction recognizes a commitment to best-in-class client satisfaction. Produced in conjunction with our friends at Client Feedback Tool, the winners of this award have gone through a robust client feedback survey and risen to the top. These firms have delivered on the promise to exceed expectations and keep their clients happy.
ONE-ON-ONE MEETINGS WITH PSMJ CONSULTANTS
One of the unique aspects of this event is the chance to map out ideas and actions tailored specifically to your firm. We want you to hit the ground running when you get back to the office on Monday. To help with this, you can meet one-on-one with any of PSMJ's speakers and experts at the event for a 50-minute meeting to discuss your challenges, your opportunities, and your plan for success. Space is very limited for these meetings before, during, and after the event. You can request a meeting during the registration process or (if space remains) onsite at THRIVE 2019.