What if you could get first-hand insight on THE BOLD MOVES forward-thinking A/E/C firm leaders are making now to THRIVE in the coming business boom?
What if you could TEST NEW GROWTH STRATEGIES in a confidential and non-competitive setting, getting IMMEDIATE FEEDBACK from peer A/E/C firm leaders?
What if you could STEP BACK from the daily demands of running your A/E/C firm TO LOOK AHEAD and re-imagine all aspects of post-COVID business growth, from people to processes to business development strategy and so much more?
You can. This one retreat could completely change your firm's growth path as we emerge from the pandemic… and add tens (even hundreds) of thousands of dollars to your bottom line.
From June 14-17, 2021, a small and select group of senior A/E/C firm leaders from across North America will gather in beautiful Newport, Rhode Island for a frank and open exploration of new solutions and new strategic growth opportunities rarely seen before.

Will you join them? Or risk stagnating with outdated thinking?

---
There may never be a better time to radically rethink how to grow your architecture or engineering business. Why?
It's never been cheaper to leverage working capital


You may have resized your headcount during the crisis and are now operating more efficiently

The COVID crisis has accelerated plans for firm sales, with prime acquisition targets available at attractive prices

Most economic forecasts point to 5% annualized growth rate by the time we hit the 3rd quarter of the year
While the pandemic didn't spell complete disaster for all market sectors, it did cause massive disruptions in how firms operate. Your response to these tough new challenges and new ways of operating will have far reaching impact on your firm's future, and making the wrong decisions can sink an otherwise sound enterprise. Problem is, you're the only one who can make them, and you make them alone. Until now.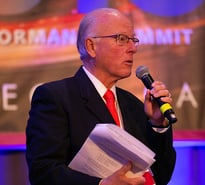 To really grow your firm in 2021 and beyond, make plans to join A/E/C industry visionary Frank A. Stasiowski, FAIA for Bold New Growth Decisions for the Coming "Roaring '20s": A PSMJ Senior Executive Forum.
Almost every A/E/C firm with a strategic plan guiding executive decisions has been caught flat-footed by the global health crisis. Yet a select few, led by visionary Principals, are rapidly pivoting, tossing out old assumptions and rapidly embracing better ideas.
Great leaders share an ability to adjust their thought patterns to changing externalities. It's this FLEXIBLE MINDSET that allows them to see opportunities where others don't, shift their priorities, and spring into action before the door closes. Others will keep throwing the same old ideas at the problems to see if something works, even in the face of mounting evidence that it won't.
---
Your NEW challenge: Shift your firm's GROWTH plan so it works regardless of conditions over the next 24-36 months, as the world economy slowly recovers from the COVID-19 crisis.


YOUR SOLUTION: Come to Bold New Growth Decisions for the Next "Roaring '20s", a PSMJ Senior Executive Forum at the stunning Hotel Viking in Newport, Rhode Island on June 14-17, 2021, and build, through candid discussion with other firm leaders just like you and A/E/C business management experts, a new custom growth plan to attack the biggest opportunities and massive upsides to our current industry conditions:
• SHIFT to a

New

Growth-Focused Strategy

:


Your Action Plan for Driving Gains in the Next Normal

Growing architecture and engineering firms need a bold new strategy for innovating, staffing, and the explosion of Work-From-Anywhere project management. We examine a new growth strategy for your practice that aligns with once-in-a-lifetime capitalization and overhead-reduction opportunities.

• SHIFT to

New

Growth-Focused

Marketing

:


Get the Clients You Want and Walk Away from Projects You Don't

Is your new business pursuit team adjusting to radically changed meeting protocols? Do your firm's proposals address concerns about project team social distancing? How should you manage virtual zoning board meetings and other approval processes? Do you know what it takes to gain undying loyalty from larger clients for life? We'll share powerful business development and marketing strategies that have been proven to work in the current environment.

• SHIFT to

New

Growth-Focused

Compensation/Talent Practices:


It's time to make smarter pay, bonus, and staffing decisions
The next normal in staff management means performance evaluations built on different KPIs, hybrid video-based interviews for new hires, and marked changes to how we retain talent. If you furloughed or laid off staff at the height of the pandemic, which ones should you bring back? We discuss unique opportunities so operate the growth engine on a lean setting, and how to find and keep the best growth-oriented employees, motivate every different generation, and avoid the bad hiring decisions that doom growth.
• SHIFT to New

Growth-Focused Technology Choices

:


Make better capital investments for this next normal and reduce liability

Have you established critical design, data and workflow security processes for remote teams? What kind of tech investments make sense now for firm growth, given the low cost of capital, and which should be put off? We'll dive into the tech platforms that A/E/C firms need to manage teams remotely and keep clients happy and the hottest tech issues that the C-Suite has to stay on top of.

• SHIFT to New

Growth-Focused

Project Management:


Remote Workforces Are Here to Stay... Let's Make Sure They Stay Profitable



Profitable firms need profitable projects, and the Work-From-Anywhere scramble born of necessity amid shutdowns and stay-at-home orders has A/E/C leaders racing to establish new utilization and productivity monitoring metrics. We share the best practices and KPIs that the most successful WFA firms have used for years to track both PMs and projects for maximum effectiveness. Learn exactly how the top firms in PSMJ's annual Circle of Excellence not only eliminate poor project management write-offs costing 45% of profits, they actually drive an additional 15% to the bottom line through superior techniques.
• SHIFT to

New

Growth-Focused

M

ergers and Acquisitions:
A Once in a Lifetime Opportunity to Go Big


Interest rates are so low, the most successful multinational corporations, those with billions in cash reserves, are borrowing aggressively to fund expansion into new markets. What does that tell A/E/C firm leaders with a passion for growth? There may never be a better time to consider M&A as a strategy. Demographic shifts and an increasing number of senior principals unwilling to weather another dip mean prime M&A targets abound, but it's not right for everyone. We'll talk candidly about the risks and rewards of pursing growth via acquisition in the months ahead, the red-flag warnings that are actually easy to miss, and how to find that diamond in the rough.
---
Every A/E/C firm has goals– either written or general ideas in the minds of top Principals.
But only by converting those goals into a plan that's adjusted to this unprecedented time can you unleash growth forces and direct your energy efficiently. Without a structured, documented and communicated plan, your firm is rudderless. So join your fellow senior executives and A/E/C management experts for Bold New Growth Decisions for the New Roaring '20s: A PSMJ Senior Executive Forum and leave with a working, vetted, and immediately applicable plan for thriving in this exciting time.