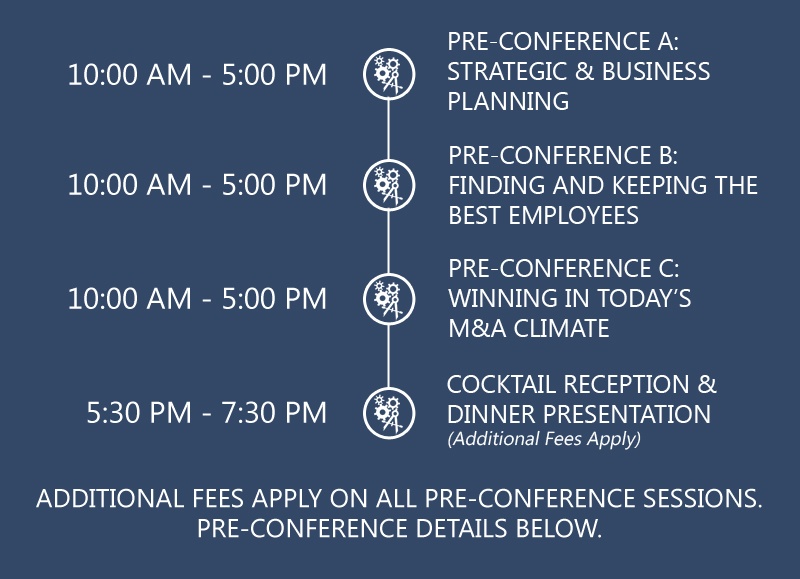 Strategic & Business Planning Success Secrets of the Top Firms
Your Insider's Guide to Planning for the Future, Growing Your Business, and Making More Money

Does your organization struggle to capture real, meaningful results from your strategic planning and annual business planning initiatives? Does your team design a good plan but fail to execute, or do you come up short with the planning itself? If so, you're not alone. Our experience indicates that less than a third of A/E/C firms develop a really good plan. And only a third of those fully execute the plans they've made. Only the Top Firms – the best ten percent of the A/E industry – capture the full power and potential of strategic and business planning.
It's time for that to change. With more than three decades of experience (and literally hundreds of strategic and business plans completed), PSMJ has developed a unique, proprietary planning process -- deliberate, disciplined, and comprehensive -- for guiding client organizations through the strategic and business planning effort, and to the successful real outcomes of business growth and improvement. In this engaging, action-packed, and highly interactive workshop we'll review the key parts of a successful planning initiative, and unveil the secrets that Top Firms already know, including:
Starting with a comprehensive assessment of the firm's current reality today;
Developing a clear set of actionable core values and business principles;
Uncovering the power of why, and the worthy mission;
Establishing a clear and compelling vision of the firm's future;
Enterprise strategies and business models that really work;
Smart goals and actions that are clear, focused, and achievable;
Best methods for building responsible and accountable teams;
No matter where you are in your firm's planning cycle – just starting, starting over, or simply looking for a few tune up ideas for a plan already in place – this preconference workshop is for you, and will provide you with the information, ideas, and initiatives you need now for growth, profit, and sustainable success. Please join us for this entertaining and thought–provoking pre conference session, and begin your journey today to Top Firm success with strategic and business planning.
John Doehring is Executive Leader of Advisory Services and Training at PSMJ Resources, Inc., and is responsible for the company's consulting and in-house training business worldwide. In addition to leading a diverse team of highly qualified professional consultants, trainers, and experts, John himself advises A/E/C firms in the areas of business strategy and planning, marketing and growth, organization development, and operations transformation. He has successfully led dozens of strategic business planning and operational improvement engagements for professional services firms of all types, sizes, and market focus. John's passion is helping leaders to plan for the future, grow their business, and make more money.



Finding (and Keeping) the Best Employees in Today's War For Talent


Remember life before the "Great Recession"? Hiring at what seemed like a frantic pace. And that nagging concern that you were hiring people who wouldn't have made the cut in slower times. But, the work was coming in hot and heavy and you needed staff to get it done. Then, things changed…quickly.
In fact, the labor force in the A/E industry contracted by almost 15% between the beginning of 2008 and the middle of 2011.
Well, times have changed again. Backlogs are growing and hiring is revving up again. But instead of just hiring anyone who can fog a mirror, there's a better way. A more sustainable way to build your team for lasting success, even when the next downturn inevitably comes. This interactive and engaging pre-conference session provides you with:
The strategies that the smartest A/E firm leaders are using today to attract talented employees of all ages,

How to create an environment in which employees want to stay with your firm for their entire careers,

Proven strategies for unleashing the power of high-performing employees in our firms,

The best ways to leverage the demands of the Millennial generation into improved performance for your firm,

And more.
If you play any part in building or managing teams in your A/E organization, don't miss this pre-conference session.
This workshop is led by Tim Griffin, a highly successful manager of a branch office of a national engineering firm and author of the best-selling book Winning with Millennials. As a consultant with PSMJ, Tim is also an accomplished speaker and trainer working with A/E firm leaders throughout the United States. In this session, Tim guides you to strategies that really work, steer you clear of the serious pitfalls, and give you action-oriented ideas that you can implement immediately.



Avoiding the Million-Dollar Mistake: Winning Strategies for Today's M&A Climate


To some observers, it may seem that there are two types of firms in the A/E industry – those that have been involved in a merger or acquisition…and those that will be. Of course, this may be a bit of an extreme prediction, but M&A is becoming a much more significant element of growth strategy planning and a more frequent option for firm leaders beginning to plan their exit. And, the entire industry gets impacted one way or another.
Of course, M&A comes with lots of moving parts and opportunities to make that million-dollar mistake. From the high-level strategy to the nuts and bolts of valuation, deal structure, due diligence, and integration, this pre-conference session gives you an insightful look at exactly where deals can go wrong and where they can go very right. You get specific guidance to avoid common trouble areas, such as:
PLUS A POWERFUL CASE STUDY! In addition to proven and action-oriented advice from PSMJ Senior M&A Consultant Brad Wilson, this is also your one-of-a-kind opportunity to hear directly from the key players in one of Stantec's recent acquisitions. Stantec is one of the A/E industry's most active acquirers and PSMJ recently advised 130-person electrical engineering and lighting design firm Sparling on their sale to Stantec. We'll have Sparling CEO Eric Overton and Stantec's Senior VP of Strategy and Acquisitions, Bjorn Morisbak on-hand to present exactly how they overcame (or avoided) the obstacles and got to a win-win transaction. This kind of in-person insight on how a successful deal came together may prove to priceless when you are planning your next acquisition or the sale of your A/E firm.
Bring plenty of questions for Brad, Eric, and Bjorn in this one-of-a-kind session and leave with plenty of notes, ideas, and insight to make your next transaction (as a buyer or seller) a success!