WHY SHOULD YOU BE AT A/E/C THRIVE?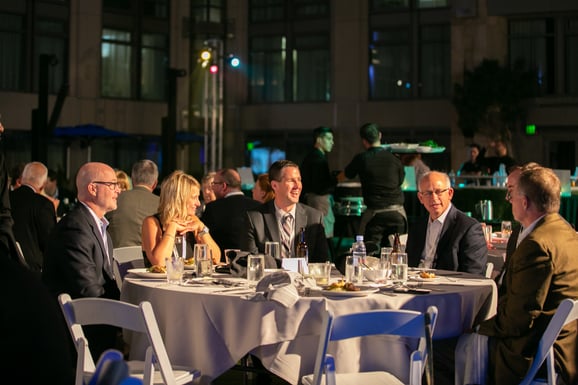 Simply put, no other event inspires, celebrates, and energizes success in the business of architecture, engineering, and construction like this three-day experience.
What started many years ago as a venue for A/E/C CEOs to exchange ideas and best practices has evolved into so much more. Today, this annual event attracts hundreds of A/E/C firm leaders from Principals to financial officers to marketing and BD professionals to HR and talent optimization wizards.
Through inspiring keynotes, action-oriented breakout sessions, and networking, you leave with renewed energy and excitement for opportunities that lie ahead. View photos from last year's event.
WE COVER THE CHALLENGES AND ISSUES THAT MATTER MOST TO YOU
When we say that this event has the power to ignite your A/E/C firm's growth potential, we mean it. But, igniting growth potential doesn't just fall on the shoulders of the CEO. Everyone in the firm plays a role and everyone in the firm stands to benefit from being a part of A/E/C THRIVE. That is why we built A/E/C THRIVE around PSMJ's popular Business Success Model to ensure that we cover virtually every facet of A/E/C firm management.
NEW POWERFUL SESSION TRACKS
We all know that sustainable success is a team effort. That's why A/E/C THRIVE is built to provide your entire leadership team with action-oriented and proven strategies to tackle the issues that matter most in every aspect of your firm. To make it easy to ensure that your leadership team has the conference covered from all angles, our breakout sessions follow these four tracks:
| | | | |
| --- | --- | --- | --- |
| Lead Your Firm into an Even Brighter 2020 With Strategic Initiatives that Maximize Opportunities | Drive Better Top and Bottom Line Performance with New Metrics, Reporting, and Financial Resources | Realize Maximum Return on Human Capital Investment and Keep Your Best Performers Engaged | Win More Profitable Work and Focus Resources on Business Development Activity That Strikes Gold |
NEW 2019 EYE-OPENING CONTENT
Financial metrics you should be inserting in the DNA of your firm

Prepare NOW for lucrative A/E/C opportunities emerging in the next five years

Strategies for making your firm a market leader

A data-based firm valuation reality check

Winning sales call strategies you'll be eager to test

Expoiting tax credits that drive more revenue to the bottom line

Techniques for skyrocketing employee satisfaction and retaining top performers

A foolproof leadership optimization plan to secure your (and your firm's) future

Your checklist for attracting, developing, and locking in world-class talent

Essential client experience program components that spark more repeat business
Whether your passion is strategic leadership, marketing, finance, technology, project management, talent optimization, human resources, or a blend, you learn the most valuable secrets for long-term sustainable growth at A/E/C THRIVE.