The Ultimate Ownership Transition Manual
Publisher: PSMJ Resources, Inc.
Date Published: 2014
Number of Pages: 292
Availability: In-Stock
Format: PDF
Price: $347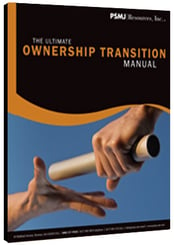 Don't put ownership transition planning off any longer!
It is the easiest subject to put out of your mind. As the owner of a successful architecture or engineering firm, you probably feel too busy keeping clients happy, finding new opportunities, and just the day-to-day grind of running the firm. The question of who will run the firm when you are gone is not exactly something that always rises to the top of your "To Do" list.

Don't put it off another day! Without a plan, every day that passes brings you one day closer to an undesirable outcome…an outcome where key employees, clients, and firm value are lost.

There is no single right answer when it comes to ownership planning. However, there are plenty of wrong ones. Built from our decades of helping firm leaders tackle virtually every imaginable ownership transition challenge, this practical manual takes a complex and overwhelming process and breaks it down into easy-to-follow steps.

With The Ultimate Ownership Transition Manual, you know what you need to do, what to steer clear of, and how to make success happen. More than this, you have the tools, templates, and checklists that you need to implement your ownership transition plan. You get concrete tools and advice on:
Preparing future leaders.
Financing the transition.
Preparing a buy/sell agreement, including a checklist and template.
Preparing a stock purchase agreement, including a checklist and template.
How to answer questions from employees.
When an external sale is right.
And much more.
You also get plenty of true stories to learn and benefit from! No other product packs more industry-specific information and advice to position you for success in your ownership transition.