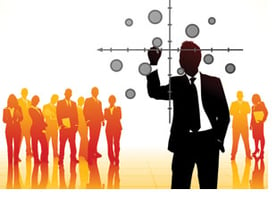 At PSMJ's popular A/E/C Pricing and Negotiations Workshop, project managers, principals, and senior executives from a wide range of architecture and engineering firms, ranging in size from 30 to 5,500, come to share, collaborate, and learn about improving their own pricing and marketing strategies, and negotiating for higher fees, better contracts, and ultimately more successful projects.
In one interactive exercise, we ask attendees to share with one another and the group their personal experiences with a real-life negotiation—and specifically to answer these three questions: What went right, what went wrong, and what was missing at that moment (for some, the negotiation happened twenty years earlier, for others it was just last week).
While the stories are often varied (and entertaining!) there are several common themes—and thus some important lessons to be learned. Successful negotiations are not one-and-done events, but those that happen over time, and in multiple meetings—in other words as a process. Positive outcomes are also commonly associated with clearly a defined project scope, with a high level of information transparency and sharing, and with clients who "just get it and get us." Relationships based on mutual trust were mentioned by most.
On the flip side, bad negotiations usually result from one-sided, asymmetrical relationships, with clients who were largely procurement or price-only driven, and in situations where the firm was in a subcontractor position, or not viewed as having any meaningful differentiation—or pricing power. In this exercise, some attendees recall being treated pretty rough, bullied by purchasing agents, developers, or prime consultants.
You may be thinking that none of this is news, that these insights are obvious—basic attributes of successful and not-so-successful negotiations—and you're right. Nevertheless, I'm struck yet again by how important it is for all of you—no matter how experienced or how successful—to revisit on a regular basis the basics of good strategy and practice, and to draw inspiration and encouragement from each other—our professional peers. The secrets to success in professional services aren't always terribly complicated, but they are often quite difficult to execute. In pricing and negotiating there are multiple forces (both outside and inside the firm) conspiring to beat us down or beat us back. It's up to us as leaders to turn back the tide of mediocrity, commoditization, me-too, and it-can't- be-done. Inspiration and perspiration—in equal parts.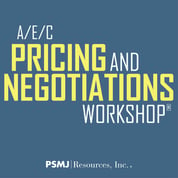 Ever wonder if there really is a way to get the upper hand in negotiations? A way to get the fees (and respect) that you deserve…without losing the client? There is. PSMJ's A/E/C Pricing and Negotiations Workshop is packed with 40+ years of proven strategies and tactics that the most successful architecture and engineering professionals are using to get results.
You also might be interested in these related posts:
How to Increase Fees when Clients Use Price for Selection
Break Your Fees Down - Keep Your Prices Up
How to Overcome Impediments to Effective Project Management