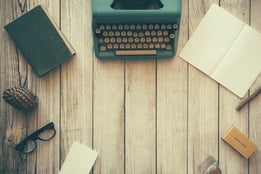 With all of the A/E/C industry-related content published on this blog in May 2017, it's easy to let some important articles slip through the cracks, and get lost in the clutter. In an effort to keep you up-to-date on the hottest topics, PSMJ has compiled a list of our top 10 most-viewed blog posts from last month.

10. Difficult Clients vs. Bad Clients – Wouldn't it be wonderful if all our clients were great to work with? Unfortunately, if your architecture or engineering firm worked only with great clients, there probably wouldn't be enough work to keep everyone busy, much less allowing for growth.

9. How to Make the Best Valuation of Your Firm –

Small architecture and engineering firms owners are likely to be fielding offers again. So if you've been thinking of cashing in, it may be a good time to get a valuation. Also,

beware of lowball offers.

8. Trend Line: How Do A/E Firm Leaders Charge Their Time? – Trend information fromPSMJ's 2017 A/E Management Compensation Survey indicates interesting shifts among certain architecture and engineering firm management positions on the percentage of time charged to projects and to the business development overhead accounts of design firms.

7. A/E/C Mergers and Acquisitions in May – Here's a recap of some of the latest A/E/C mergers and acquisitions making headlines in May.


6. "We get great disgruntled top-notch talent from firms that were just acquired"– Sound familiar? This comment actually came from the CEO of a major engineering firm. Unfortunately, over the years, our consultants at PSMJ have all seen examples of great firms that were acquired, only to be faced with a mass exodus of top talent after the deal is done.

5. The 4 Best Online Collaborative Whiteboards – Today's technology combined with an increased client expectation for intense involvement in their projects has given birth to numerous digital, collaborative tools.

4. The Latest A/E/C Mergers and Acquisitions – Here's a recap of some of the latest A/E/C mergers and acquisitions making headlines…

3. A Good Negotiation Looks Like This – I'm just back from leading a lively discussion and debate at PSMJ's new A/E/C Pricing and Negotiations Workshop in Nashville, Tennessee. Project managers, principals, and senior executives from several firms, ranging in size from 30 to 5,500, came to share, collaborate, and learn about improving their own pricing and marketing strategies, and negotiating for higher fees, better contracts, and ultimately more successful projects.

2. A/E Marketing Today: Another Opinion – PSMJ has received a number of passionate reactions to David Whitemyer's recent blog post, 8 Reasons Why You Shouldn't Do A/E Marketing. Here we publish one response from Melise Gerber, Director of Marketing at KDG Construction Consulting, which offers many good points for consideration.

1. 8 Reasons Why You Shouldn't Do A/E Marketing – A/E marketing isn't for the faint of heart, lazy, or whiny. It's fast paced, requires multiple skill sets, and demands flexibility. There's a reason why most architecture and engineering (A/E) marketing professionals only last a few years in each firm: They're just not ready for the speed and heavy workload. Are you ready? Here are eight reasons why you might want to rethink your A/E marketing career.

Thank you contributing to the growth of the PSMJ blog in May 2017! For an archived list of our past blog posts, click HERE. We look forward to continuing to bring you powerful tips and top news from the A/E industry.

Thank you for reading!

Now its your turn: We invite you to submit a blog post on any hot topic related to the A/E/C industry.